Jetstar Asia 3K551 Singapore Changi (SIN) to Ho Chi Minh City (SGN)

Date: 16 May 2014, Friday
Aircraft: A320-200 9V-JSJ
Seat: 20A
Departure Gate: C1

Scheduled Departure Time: 1950 LT
Boarding Time: 1925 LT
Push Back: 2002 LT
Take Off: 2016 LT Runway 20C
Cruise Altitude: 30,000ft

Scheduled Arrival Time: 2100 LT
Touchdown: 2054 LT Runway 25R
Actual Arrival Time at Gate: 2105 LT
Arrival Gate: 16

*Some photos in this section are taken with a mobile phone - apologies for the photo quality!*

Fokker 70 & 100

Regional jets are now a rarity in this part of the world with many operators opting for larger aircraft or the smaller ATR turboprops to serve the niche regional routes in their network. The photogenic Fokker 70 & Fokker 100 regional jets were once a relatively common sight at airports throughout South East Asia in the '90s and were a welcome sight for many aviation enthusiasts who sought to photograph these aircraft decked out in the varied liveries of Sempati Air, Pelita Air, Vietnam Airlines and Silkair. By 2014, Vietnam Airlines was left as the sole operator of the Fokker 70 on regular scheduled flights (Pelita operates their Fokker 100 on charters) in this region after Air Bagan had retired their Fokker 100 with effect from the Winter 13/14 schedule. It thus attracted a great amount of attention when airlineroute.net first reported on the impending withdrawal of the type in March 2014.The initial date thankfully proved to be wrong as the sturdy Fokker jets soldiered on and the final Fokker 70 service was delayed to Sunday, 18 May 2014 on the Hanoi-Luang Prabang-Siem Reap route.

Vietnam's Fokker 70 - The Plan

The initial plan to fly on VN's Fokker 70 was hatched in late 2011 as an opportunity to join some of my friends for a spotting trip to Kunming Wujiaba Airport and fly the aircraft between Hanoi & Kunming. However, work & leave requirements conspired to make that a non-event and while I eventually made my way to Kunming Wujiaba for an amazing spotting trip in May the following year, the Fokker 70 had been removed from the route and placed on the prohibitively expensive route between Hanoi & Chengdu. The plan to fly the Fokker 70 was subsequently left by the wayside until the announcement on airlineroute.net in March this year when I decided to take a serious look again. The Fokker 70 was now relegated to serve the Hanoi-Luang Prabang-Siem Reap route & a handful of isolated appearances on domestic routes such as Hanoi-Tuy Hoa. However, urgent work requirements again laid rest to an ambitious plan to fly the Fokker 70 between Hanoi & Tuy Hoa until a final opportunity arose with the postponement of the type's retirement to May 2014.

Linking the UNESCO Heritage sites of Luang Prabang (LPQ) in Laos & Angkor Wat (Siem Reap (REP)) in Cambodia with the capital city of Hanoi, VN931/930 provides an invaluable link to visitors aiming to combine a tour of these 2 unique locations in their Indochina adventure. Unfortunately, the departure time of 1245hrs from Hanoi proved to be too early for me to comfortably connect from the earliest available flight from Singapore while the scheduled arrival time of 1610hrs was too late to connect to the last direct flight from Siem Reap back to Singapore. Thus, this necessitated an overnight layover in Ho Chi Minh City (SGN) or Hanoi (HAN) on the way up and another overnight stay in Siem Reap before heading back to Singapore. Coupled with my desire to spend zero days of leave on this adventure, the airline schedules dictated a SIN-SGN-HAN-LPQ-REP-SIN for this adventure with me flying out on Friday evening to Ho Chi Minh City and back to Singapore on Sunday evening. The positioning sectors to Hanoi & from Siem Reap were chosen based on price & convenience.

Jetstar Asia - 3K551 SIN-SGN 1950 2100 16/5 Fri A320
Vietnam Airlines - VN224 SGN-HAN 0630 0830 17/5 Sat A321
Vietnam Airlines -VN931 HAN-REP 1245 1610 17/5 Sat F70
Jetstar Asia -3K598 REP-SIN 1535 1840 18/5 Sun A320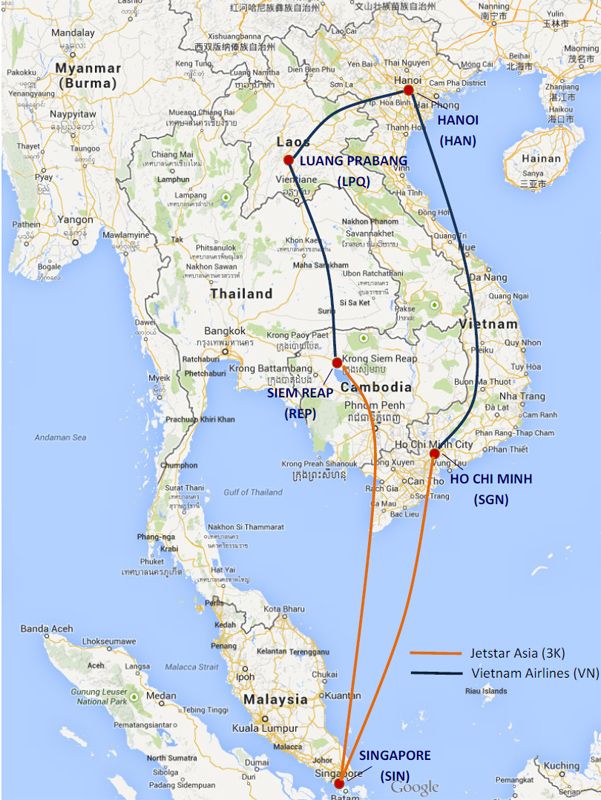 Copyright Google, Inc.

Booking

Jetstar Asia, Tiger Airways, Singapore Airlines & Vietnam Airlines offer convenient evening departure times from Singapore to Ho Chi Minh City and is well positioned for travellers looking for a quick weekend getaway to the bustling city after work. Sale fares were available on both Jetstar Asia & Tiger Airways with Jetstar Asia being marginally more expensive than Tiger Airways by $9. As the departure times of both competing flights were within an hour, it qualified for Jetstar's Price Beat Guarantee where Jetstar Asia would beat the competing fare by 10%. In addition, it was scheduled to leave 40mins after Tiger Airways and provided me an additional buffer to get to the airport after work.

In a bid to reduce potential errors and mis-communication, Jetstar Asia introduced a new online chat system and passengers could no longer price beat by calling the hotline. However, there were problems with launching the online chat system although it was manned round the clock, and I was only able to successfully launch it the following morning. A pleasant 20 minute long chat with the assigned agent settled the booking and I was provided the PNR (the e-mail with the e-ticket would only be sent 1-2 days after the booking for the price beat guarantee). One major benefit of taking advantage of the price beat guarantee is being able to save on the otherwise mandatory credit card booking fee as offline payment is only available for flights departing in two weeks or more.

Check-In

Jetstar Asia allows passengers to check-in online up to 48hrs before their flight and unlike other LCCs, complimentary seat selection of the normal seats could also be done from an interactive seat map. I was able to get my choice of seat as less than 25% of the seats were taken at this point. At the completion of the online check-in process, a PDF boarding pass was generated for passengers as the Ho Chi Minh route is an eligible flight under the LCC's Straight To Gate feature. This allows passengers to almost completely bypass the check-in row at the airport as they only need to get a document verification stamp before entering the restricted area. Such a feature is very useful for early morning departures as passengers can grab the last train or bus to the airport to save on costly taxi fares and get a good rest in Changi's excellent restricted area before their flight.

A helpful colleague dropped me off at Changi Airport Terminal 1 after work and there were only 2 passengers before I was directed to a female check-in staff who appeared to have a particularly rough day as she grudgingly printed my boarding pass after discovering that I had not printed the PDF boarding pass although I had performed the online check-in. A cursory check on the weight of my carry-on was performed before an orange tag was slipped onto the handle.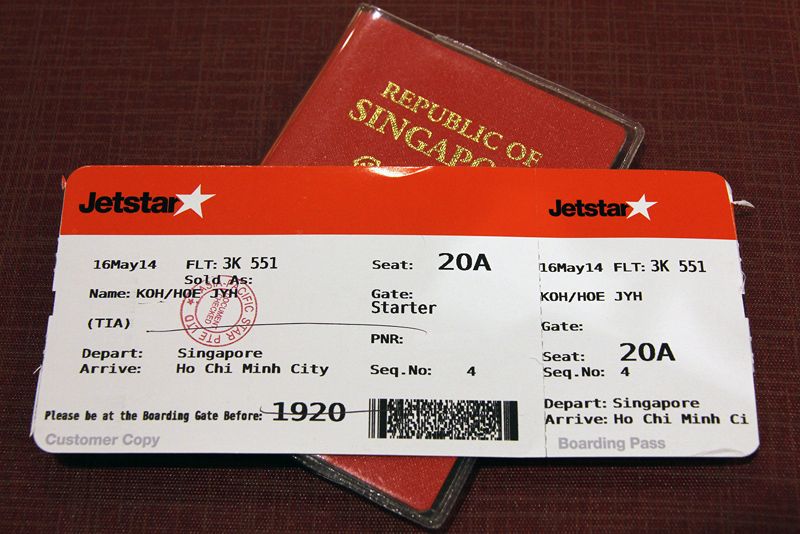 Dnata Skyview Lounge, Terminal 1

After bypassing the long immigration queues by using the automated clearance gates, I proceeded to the Dnata Skyview lounge located near the D pier of Terminal 1 where an ANZ Travel Visa card allowed unlimited access to participatin Veloce lounges around the world. The Dnata Skyview lounge is also often referred by many as the CX lounge since Cathay Pacific is the main user of the facility with their numerous flights throughout the day. The lounge is split into 2 levels, with the lower level overlooking the central apron and has a mix of lounge seating and work stations. Unsurprisingly, this level was crowded with most seats being taken up.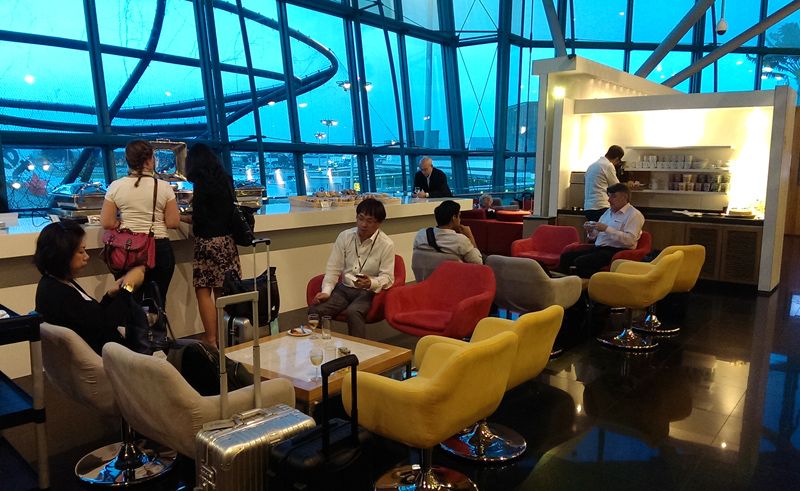 A newer, quieter upper level offers a more cosy seating area. The same selection of hot dinner dishes was available at both levels of the lounge.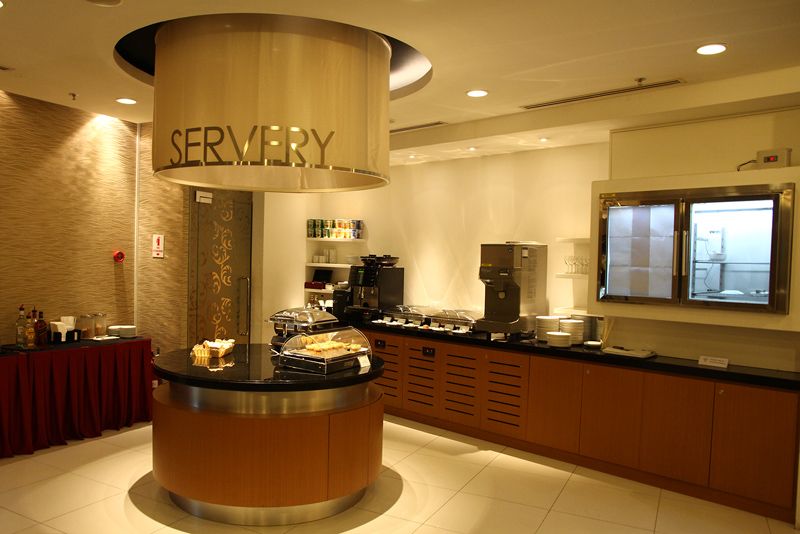 Steamed Jasmine Rice, Thai Chicken Green Curry, Sweet and Sour Fish, Penne Pasta Garlic Oil, Mixed Vegetables & Mixed Zucchini and Bell Peppers were offered at the self-serve counter.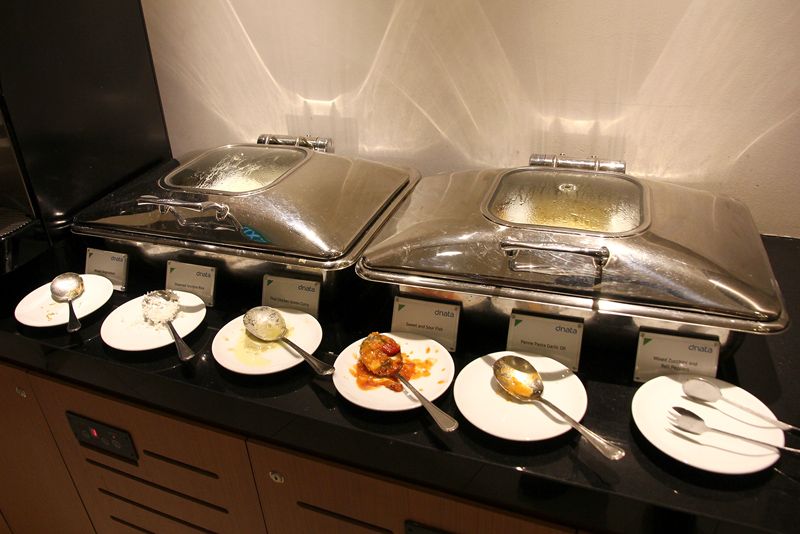 As Jetstar Asia does not offer complimentary meals on its flights, I had a quick dinner at the lounge. The food wasdecent but not particularly fantastic and is a view shared by many other online lounge reviews. The Thai Chicken Green Curry was easily the best dish among those sampled but tended to be more on the salty side. It is worth noting that canned soft drinks were only available in the upper level and only a soda fountain is available on the lower level.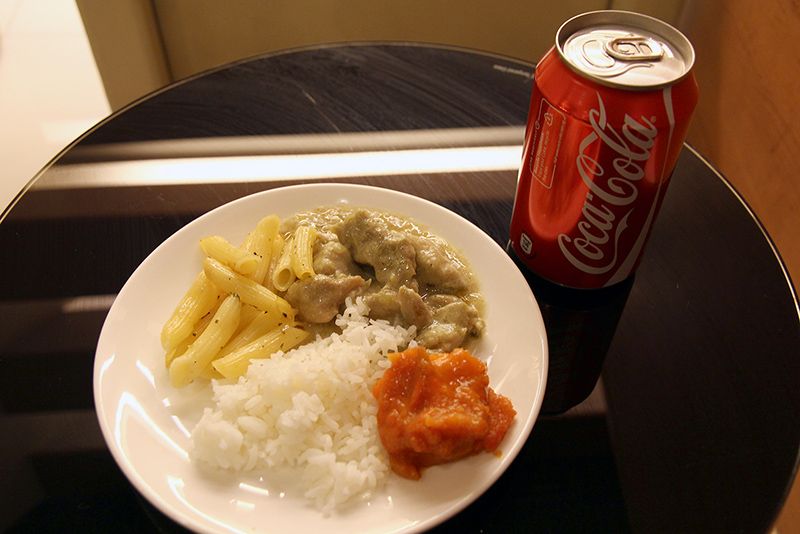 There are only 2 shower rooms in the lounge but both were perennially occupied, and the toilet was in a particularly appalling condition with toilet paper strewn across the wet floor (it was declared as unserviceable on a previous visit earlier this year and patrons were advised to use the excellent toilets located just outside & under the lounge).

Changi Airport often stage thematic exhibitions in cooperation with airlines to promote the destinations that they fly to from the airport. An Istanbul tram mock up was erected in the central atrium to promote the city together with Turkish Airlines which flies daily between the 2 cities. It is certainly a city that I would like to visit in the near future!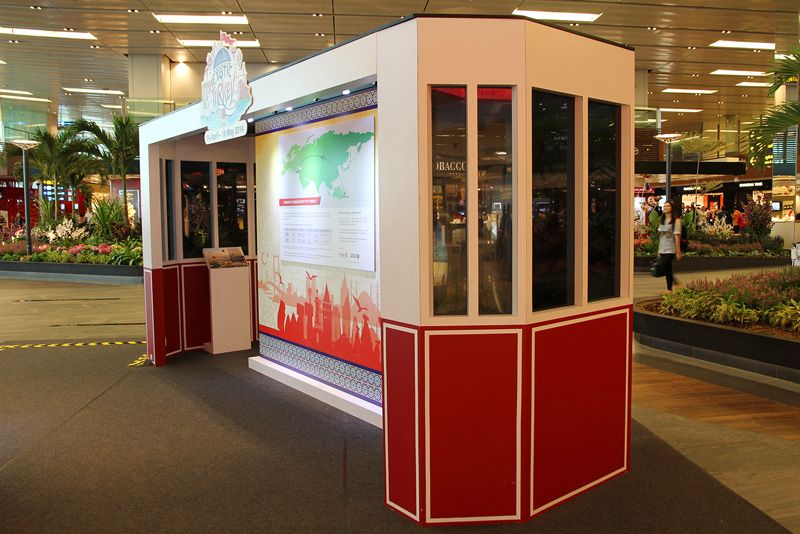 Another exhibit showcases typical Turkish groceries which included tea and preserved fruits.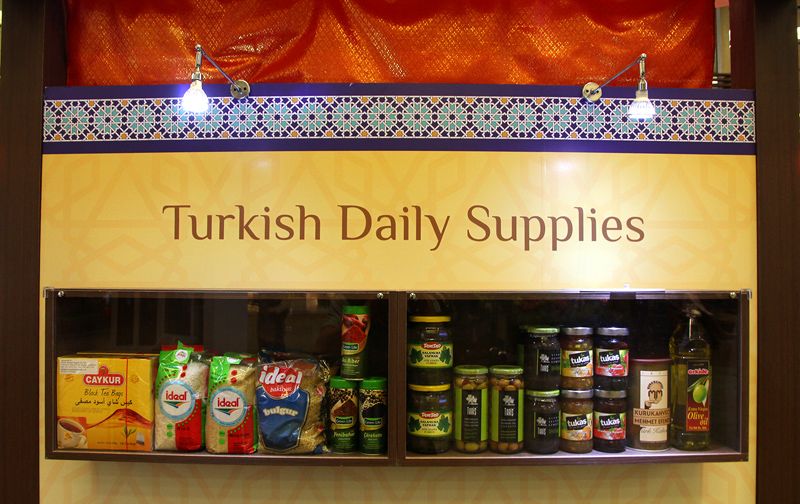 The Flight

Jetstar flies to Ho Chi Minh City thrice daily and had recently implemented codeshares with QANTAS & Emirates on many of its flights. The evening departure to SGN is codeshared with QANTAS as QF4220 & Emirates as EK6641, and passengers booked on these 2 codeshare flights are offered complimentary food & beverage service onboard the flight.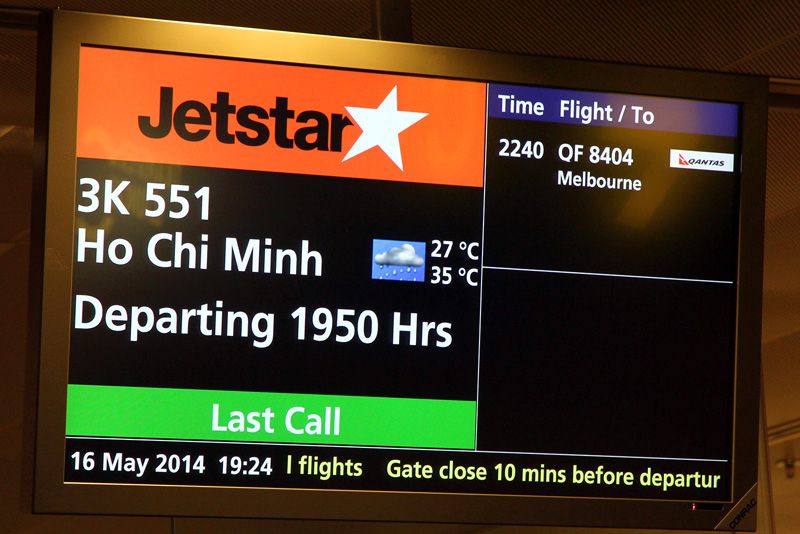 The queue for security screening took 15 minutes and boarding had commenced while many passengers were still stuck to clear security. Heading down the aerobridge, I was happy to note that I did not have another date with 9V-JSA but was able to log another new registration with 9V-JSJ (MSN 4515) operating the flight to SGN today. The aircraft was delivered new to Jetstar Asia in December 2010 in the airline's revised livery.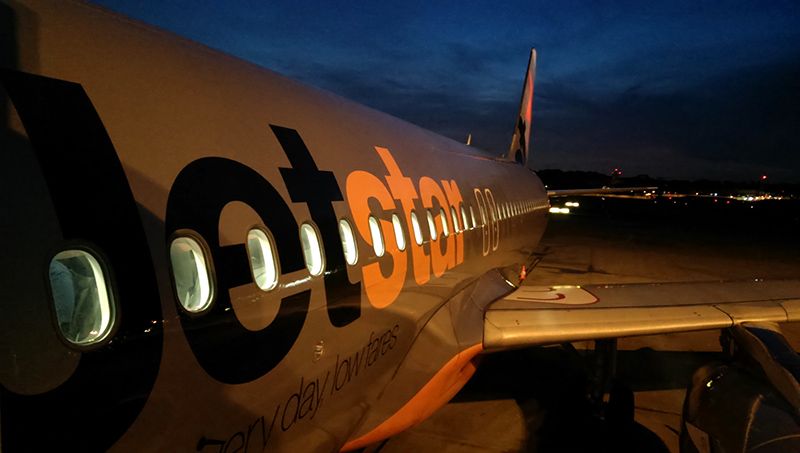 After being welcomed by the crew at the door, I headed down the aisle to the aft section of the aircraft where most of the passengers had already settled down and discovered that a lady had occupied my allocated seat. The attentive male cabin crew who stood next to me immediately noticed the discrepancy and firmly requested for her boarding pass. The card was produced after a fair amount of rummaging through her huge purse and she sheepishly moved to her allocated seat 3 rows behind on her own accord. As the final passengers made their way onboard and the cabin doors were closed, the middle seat next to me turned out to be free and was shared with another Caucasian gentleman in the aisle seat.

We pushed back from the gate 7 minutes behind the scheduled time ahead of a British Airways B777-300ER which was parked beside us. Although it had only been 2 months since I last flew Jetstar Asia, pre-recorded announcements were used extensively this time around with the safety demonstration narration completely pre-recorded. It had certainly made the crew looked more professional as they went about their safety checks and intelligible mumbling in a Singlish accent over the PA system used to be a very common complain on 3K flights.

A further 15 minute creep along the taxiway later in the evening peak hour departure jam, we turned onto runway 20C and the glittering city lights of the city & the airport complex soon spread out below us after making a left turn to head north.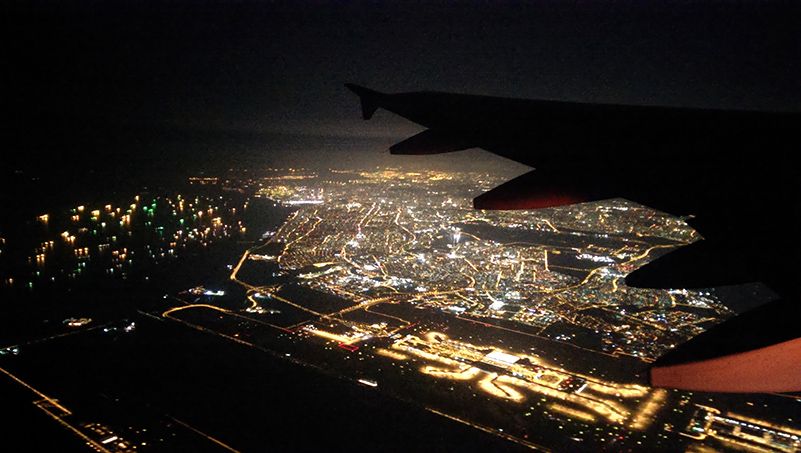 The flight was approximately 75% full, with an equal mix of passengers dressed in business attire and weekend trippers. This series of A320 in the fleet have orange tray table latches and a non operational digital audio IFE control in the armrest.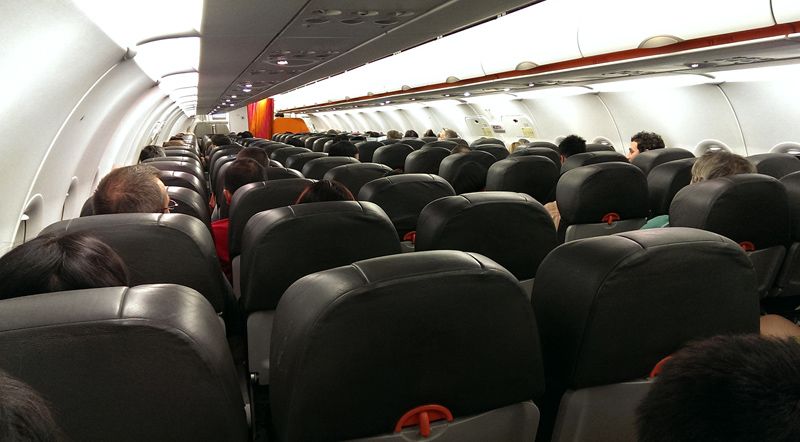 After the usual buy onboard meal & duty free sales were carried out, the cabin lights were dimmed for passengers to rest for the remainder of the flight. However, the flight passed very near an active thunderstorm cell 30 minutes after departure over the South China Sea and passengers seated on the left were treated to an impressive lightning display.

Flightradar 24 trace of the flight from Singapore to Ho Chi Minh City. Copyright Flightradar24.com, Google,Inc.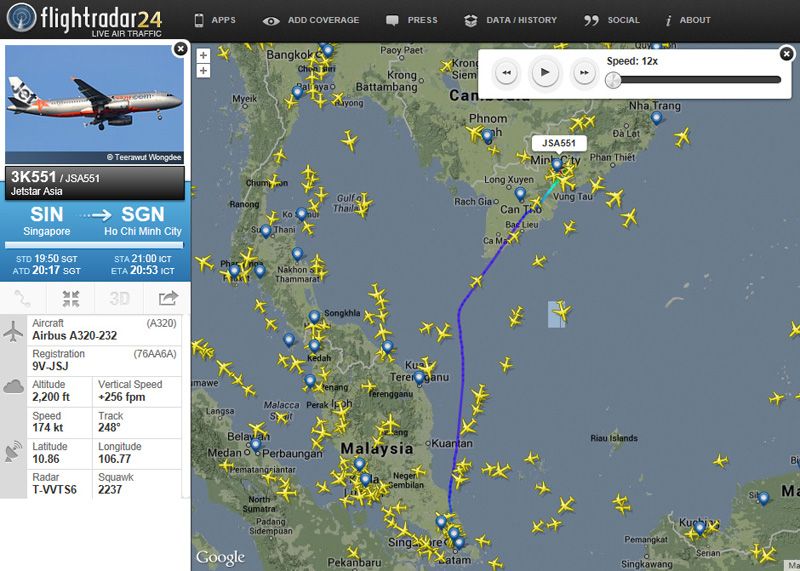 Following a smooth descent, the scattered lights of the countryside transitioned to a brilliant sea of lights as our flight flew the downwind leg for SGN Runway 25. A new pre-recorded announcement requested passengers to re-arrange the contents of their seat pocket such that the safety card was at the front.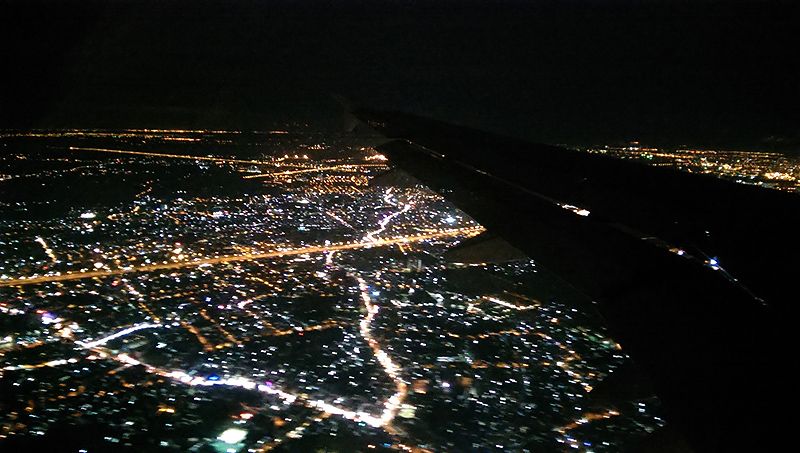 A close up of the Flightradar 24 trace for the approach into Ho Chi Minh Tan Soon Nhat Runway 25R. Copyright Flightradar24.com, Google,Inc.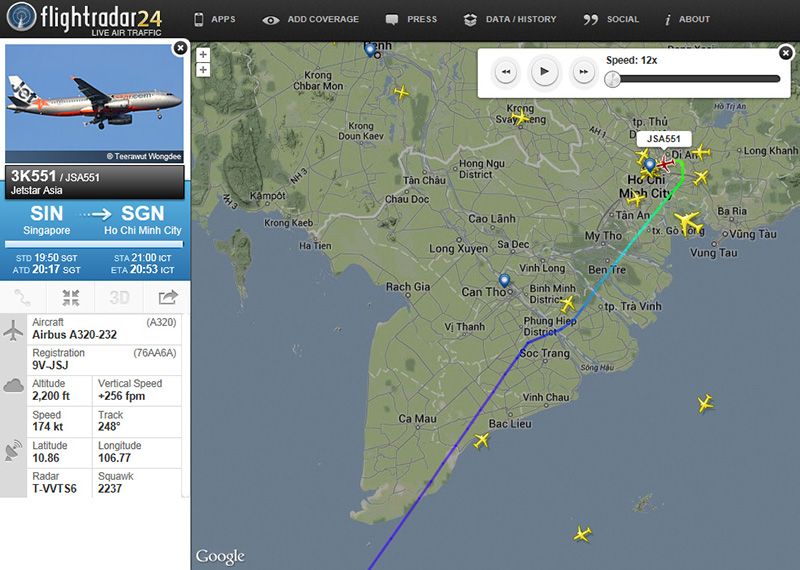 We touched down after a flying time of 1hr38mins and turned back for the lengthy backtrack to the terminal building. As we docked into Gate 16, I saw that I would had flown on a non-Sharkleted 9V-TAM had I chose to fly to Tiger instead. In addition, the Tiger Airways flight was an hour late and had arrived after us despite an earlier scheduled departure time.

Vietnam Airlines A330-200 VN-A375 laying over for the night at an adjacent gate.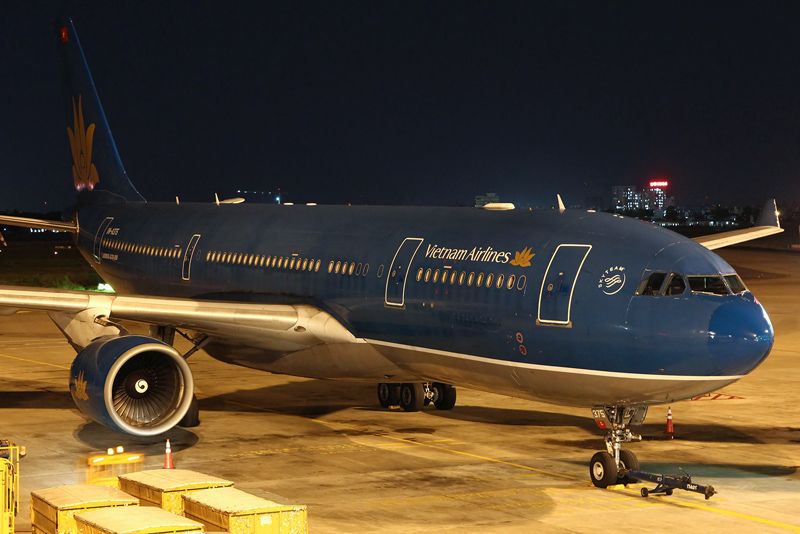 A long walk down the length of the L shaped international building led to the common immigration & customs clearance area where the transfer counter is also located.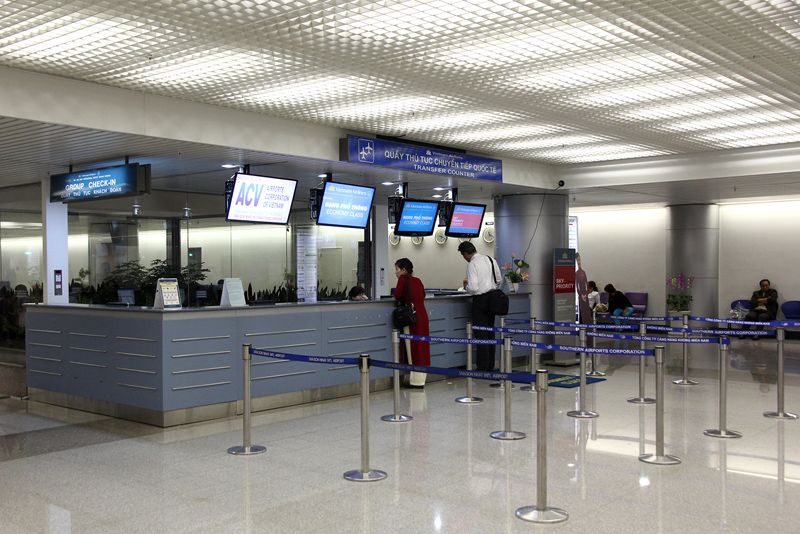 As Singapore passport holders do not require Visa to enter Vietnam, I joined a group of Malaysian passport holders from the AirAsia flight that had just arrived from Kuala Lumpur at the 2 rows reserved for visitors from ASEAN nations. No immigration form is required to be filled up for entry into Vietnam and my passport was swiftly stamped after a short wait for my first visit to Vietnam.

Baggage collection area, Tan Soon Nhat International Terminal. A row of money changers were located after the customs clearance area with staff calling out to visitors looking to convert foreign currency into Vietnamese dong (VND). It felt out of place as there were no boards displaying the day's exchange rate for each currency, but was instead pressed on a handheld calculator upon enquiry of the rate. The offered rate was quite close to the bank rate shown in the XE Currency mobile phone app, and all counters offered a similar rate.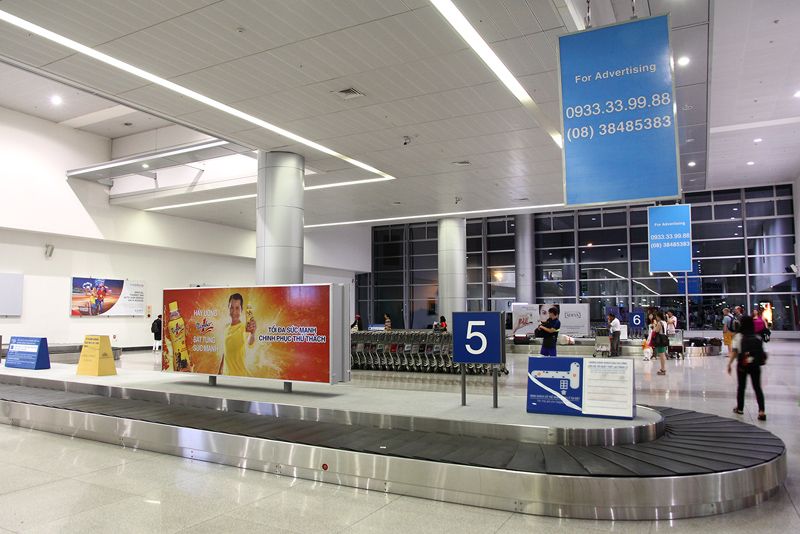 The arrival hall was a simple non air-conditioned concourse and was filled with greeters waiting for passengers from arriving flights.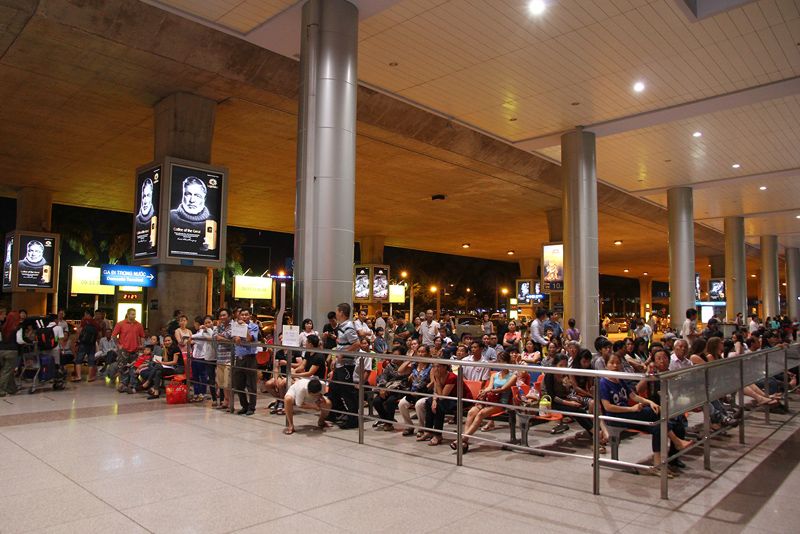 A simple LED board showed the list of arriving flights along with the list of codeshare flights for the evening at the international terminal.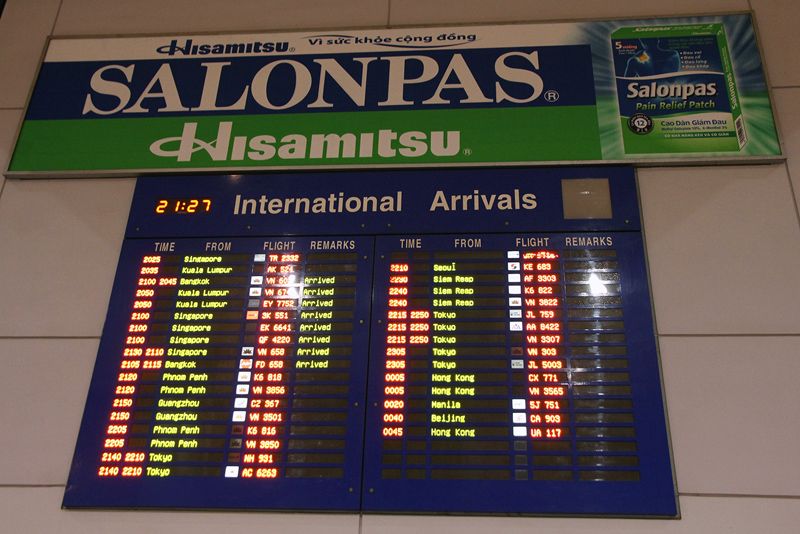 The layout and the bare décor of the arrival concourse bore a strong resemblance to that of Manila Ninoy Aquino Airport Terminal 3.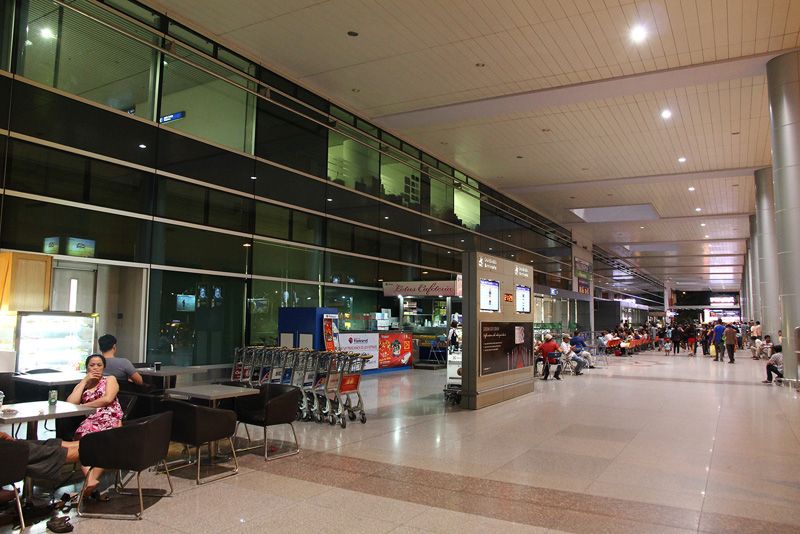 Iris Hotel, Saigon

With my next flight to Hanoi departing at 0630hrs the next morning, I looked for inexpensive accommodation near the airport with a 24hr reception but the bulk of the hotels had garnered rather negative reviews on Agoda.com & Tripadvisor.com. In addition, much had been written about the dire state of taxis in Ho Chi Minh City and it was common for foreigners to be blatantly ripped off for even a short ride. It felt similar to the case of Jakarta where visitors were advised to stick with a certain reputable taxi company and I was keen to explore the option of finding a hotel that was accessible by foot.

After some research, I decided to try out Iris Hotel which was located just 800m from the airport terminal along the main trunk road at a room tariff of S$30 (taxes inclusive). Copyright Google, Inc. & Agoda.com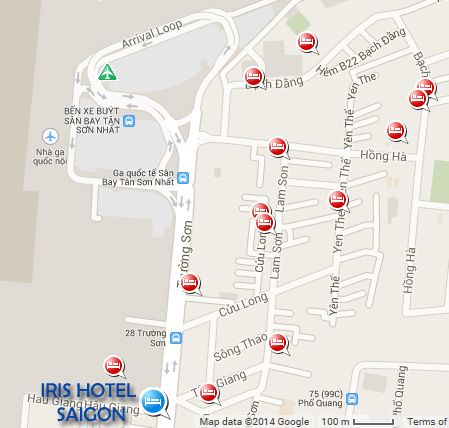 A clearly marked covered linkway linked the new international terminal with the domestic terminal to the south and with motorcycle taxi touts being the sole annoyance, it was a pleasant walk along the busy & brightly lit Truong Son to the newly constructed hotel building.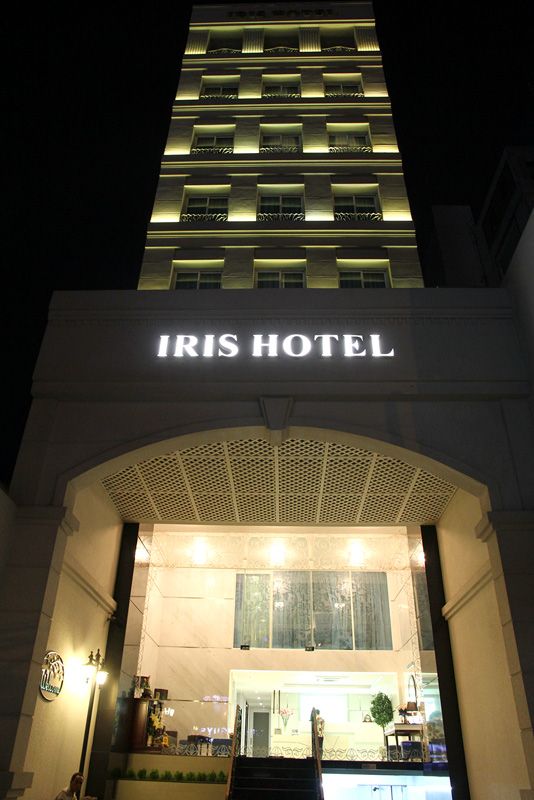 Check-in at the reception was quick as they had been expecting me and I was given the keys to my room on the second floor (essentially the third floor as the lowest floor is the ground floor). Although I had not expected much, I entered the room only to find that it had not been made up since the previous occupant had vacated it. The reception staff were understandably apologetic for the error and after barking a series of rapid fire Vietnamese into a walkie talkie, I was invited to take a seat and a chilled glass of water was served, along with a plate of Kopiko coffee sweets. The Kopiko coffee sweets used to be a household staple during my childhood days and had almost completely disappeared from many supermarkets in Singapore.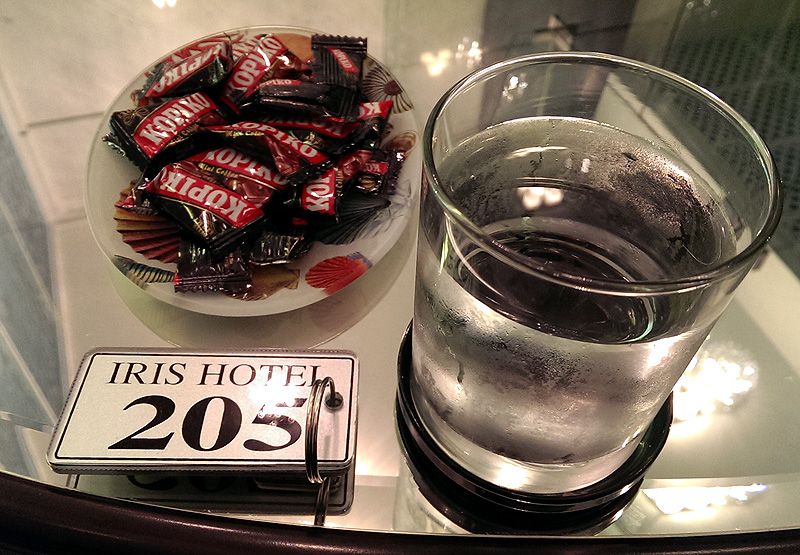 The superior double room was tidied and refreshed after a fifteen minute wait and was clean with a functioning air-conditioning unit. Free WiFi was also available and the TV had a small selection of local channels, along with a stocked mini-bar. There were also a pair of power points at the pedestal for charging of personal electronic devices.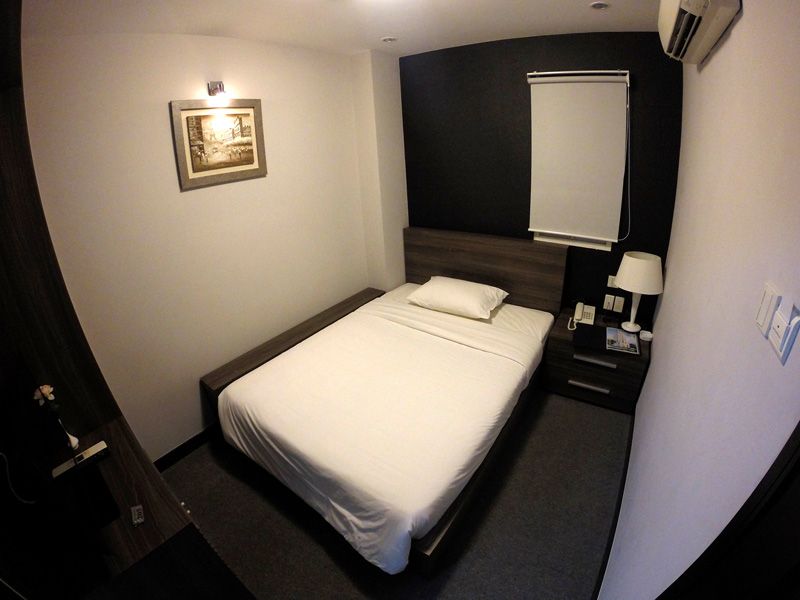 Attached bathroom & shower which was well maintained and clean. Basic toiletries and clean towels were provided.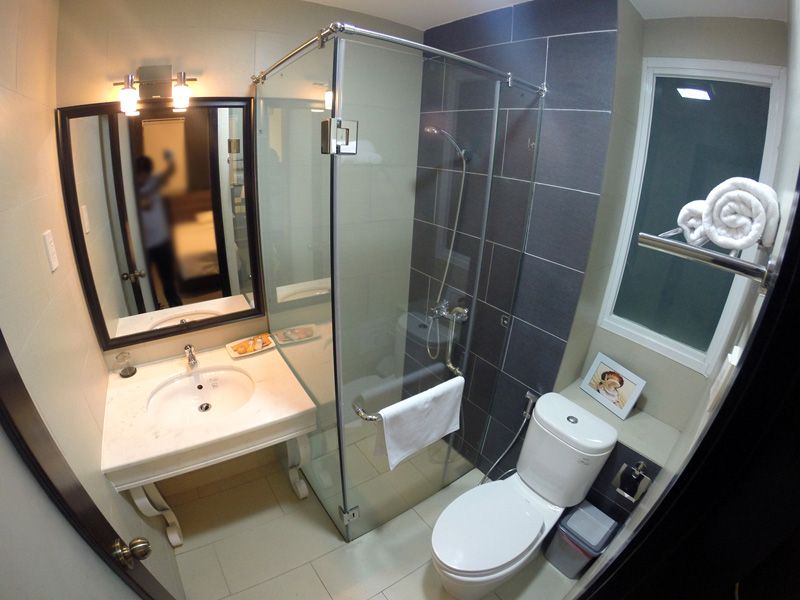 Next Post: Chasing the last weekend of Vietnam's Fokker 70 - Vietnam Airlines VN224