Highlights of UA895
Date: Friday, 18 Dec 09
Sector: Hong Kong Chek Lap Kok (HKG) -> Singapore Changi (SIN)
Aircraft: N117UA, B747-422
Seat: 48K
Departure Gate: 63

Scheduled Departure Time: 2000 LT
Actual Departure Time: 2000 LT

Scheduled Arrival Time: 2345 LT
Actual Arrival Time: 2345 LT
Arrival Gate: B5

Getting to The Airport

The final highlight of our trip was a ride on a Cityflyer A21 Dennis Trident from the city to the airport. Therefore, in order to guarentee ourselves a front row seat on the upper deck, we decided to board the bus from its first stop at Hung Hom Bus Terminal.




These double deck buses are specially fitted with aircraft style seats and are equipped with retractable blinds on the windows as well. In order to ensure the safety of the passengers' luggage, a CCTV is mounted at the luggage racks on the lower floor, and the image is shown on a screen on the upper deck so that passengers are able to keep an eye on their luggage. However, we note that most passengers choose to stay on the lower deck instead despite this feature. Service A21 (HK$33) is an economical alternative to the Airport Express Line (HK$100), but it takes 75mins from end to end as a significant portion of the journey is spent winding through the residential estates in west Kowloon before finally hitting the highway.




Interior of a Cityflyer bus (upper deck)



Owing to strong winds, both the upper decks and lower decks of the iconic Tsing Ma Bridge were opened to traffic and much to our disappointment; our bus took the sheltered lower deck tunnel instead of the scenic main deck. This might possibly due to company operating procedures to ensure the safety of the passengers. Nonetheless, it was a new experience for us as the lower deck tunnel is normally used only in summer.

Lower Deck of Tsing Ma Bridge



HKIA Departure Concourse (Cityflyer Drop off point)



Check-in

Unlike Singapore, United Airlines uses a common check-in queue at Hong Kong International Airport (HKIA), with 4 counters dedicated to economy class passengers. The queue was manageable and we were attended to by a polite and meticulous middle aged male check-in agent within 15mins. .

After which, I proceeded to the ground transport centre to photograph a Cityflyer Dennis Trident with a full body Thai Airways advertisement. It was a tradition which I had always aimed to continue whenever I visit Hong Kong, and luck has it that I always ended up photographing the bus parked at the exact same location in the ground transportation centre each time. Besides being my favourite airline, Thai Airways had adorned one of the Cityflyer's buses with several versions of its striking purple advertisement for the past 8 years, making it one of the longest continuously running bus advertisements in Hong Kong.




Meeting up with my friends again on the departure level, we proceeded to clear the common security screening at the entrance to the restricted area, which was never a problem in Hong Kong with the large number of security lanes in use. However, there were long queues at the immigration counters which do not have a common queue as with the arrivals level. Fortunately, more lanes were quickly opened to cope with the crowd and we managed to enter the restricted area after a further 10 minutes of queuing.

Christmas decorations at HKIA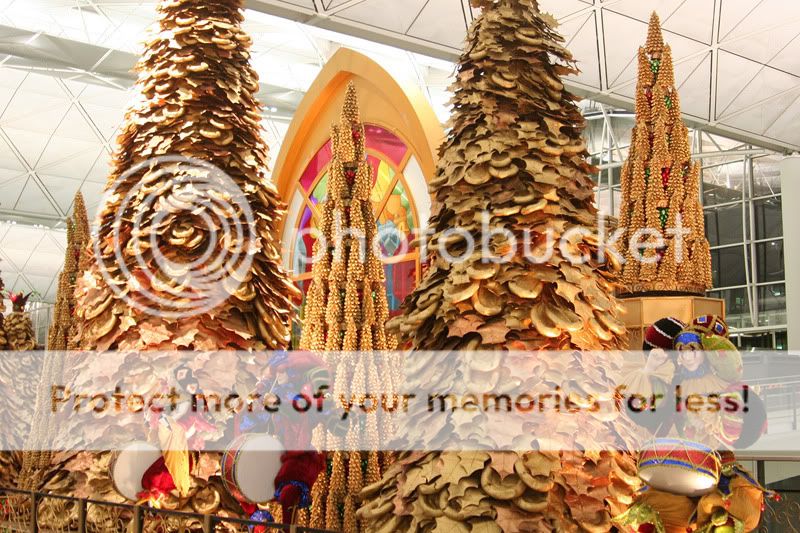 As mentioned in my previous flight report on the outbound sector, the catering on United Airlines was a great disappointment. Since we were not too optimistic about getting a better meal this time around and reasoned that passengers would probably had been offered a full dinner prior to arrival at Hong Kong on the trans-Pacific sector, my friends decided to look for a food outlet to settle their dinner first. I was told that the Café de Coral outlet located in the restricted area charges similar prices to their other outlets as well, thus this might be a rather good option to settle a meal in the future when flying a low cost carrier flight (or United regional in economy) out from Hong Kong.

Night Spotting at HKIA

The restricted area is actually quite a good place to obtain night shots of aircraft parked at the gates as almost all the aircraft which are berthed aerobridge equipped gates could be photographed. The slightly tinted glass is warped in a few panels, but most panels are relatively clear and clean to obtain photographs from. In comparison to Changi Airport, HKIA does not use double layered climatic glass which eliminates the risk of 'double reflections' which are caused by the internal reflection within the glass panel itself. Therefore, one only has to block out the reflections from inside the terminal building using a dark cloth or jacket.

How I ever wish that VS would start regular flights on their own to SIN...Virgin Atlantic A340-600 G-VWEB



N174UA resting before an onward flight to Ho Chi Minh City.



Biman Bangladesh DC-10-30 S2-ACQ



Air New Zealand B777-200ER to Auckland, ZK-OKF



Air Canada B777-300ER C-FIVQ



China Eastern B737-700 (Winglets) being prepared for pushback.



The Flight

Boarding was called 45mins before the departure time, and economy class passengers were segregated into 4 different zones based on their seat numbers. As each zone was being boarded, the gate agent called forward a number of lucky standby passengers with their seat allocations. An additional manual bag check was performed by security personnel in the aerobridge itself before passengers were allowed to board the aircraft, hence the early boarding time. The aircraft operating the flight today would be N117UA, which was delivered to United Airlines on 29/01/1999.

Apologies for the quality of this photo (some wrong settings were used). N117UA being loaded with containers at the gate.



Despite being a completely full flight, we pushed back exactly on time at 2000hrs. I was thrilled to discover that channel 9 was functioning this time around, and provided a live audio feed of Hong Kong Tower radio channel as we taxied out for departure. After waiting a short while for a Jet Airways A330 as she took off to Mumbai, we turned onto runway 07R and performed a rather long take-off roll due to heavy load on this flight.

About to push back from the gate - A last look at HKIA.



The "enthusiast" channel - Channel 9!



As soon as the seat belt signs were turned off, the Disney animation "Wall-E" was shown on the main screen as the cabin crew went around distributing Singapore arrival cards to passengers.

The "light dinner" comprised of a cold tuna sandwich with cheese, a small bag of Lays potato chips and a lemon cookie. The portion was just sufficient to prevent one from having gastric problems during the 3hr flight, and the items seemed to be mix-and-matched from a supermarket instead of a proper snack box. A full 330ml can of Coca-Cola was offered together with a cup of ice, which was thankfully quite generous of the airline as many others use smaller 150ml cans or pour only a half cup to passengers when one requests for a Coke.




The duty free shopping catalogue was not of any interest as there were no airline merchandise or aircraft models available for purchase. It was noted that the cabin crew made almost no sales at all despite going down the aisles twice with the duty free trolley while holding up the duty free catalogue with their hands.

After a short nap, the aircraft soon started to begin its descent into Singapore Changi airport, as I began to hear the familiar Singaporean 'accent' from the Singapore ATC on the Singapore Approach radio channel. From the radio exchanges, there were also 398 souls on board the flight today, which meant that the flight was totally full today, as the refurbished B747-400s are configured with 374 seats with an accompanying crew of 24.

Hemispheres in-flight magazine, baggage tags and boarding passes



After a smooth flight lasting 3hrs 17mins, we made a very gentle touchdown onto a rainy runway. Owing to the large wing area, the B747 is known for allowing very soft landings as compared to other aircraft types due to the "cushion" of air below the aircraft when it is just about to hit the ground. In fact, my most vivid memory of an Alitalia flight when I had taken more than a decade ago on a classic B747-200 were the very soft landings! We arrived back at Gate B5 at Terminal 3 at 2345hrs exactly on schedule.

Conclusion

There had been many positive reviews about the Asian crew working on the regional United sectors in Asia, and I agree that my experience with them had been a very positive one as well. They were polite, efficient and sincere when serving passengers. Unfortunately, their excellent service were let down by the quality of the catering served during the flight, which was quite dismal considering the length of the flight and the fact that it is a full service carrier operating in Asia where other full hot meals is the norm on such flights in economy class. Nevertheless, United offers an economical, safe, comfortable and punctual service on the Singapore-Hong Kong sector.

In comparison with Jetstar which offer similar schedules to Hong Kong at the time of booking, the additional $6 in terms of the ticket price is negligible. The additional benefits include being able to fly on a widebody B747-400 instead of a common and unremarkable narrowbody A320-200, some form of an inflight entertainment and catering during the flight, as well as the opportunity to experience channel 9 which is unique to United Airlines.

However, with other airlines such as Cathay Pacific offering similar fares during the low season, it might be a better choice to choose Cathay Pacific instead as passengers can enjoy greater flexibility with more daily flights, individual in-flight entertainment and full catering service.

Previous Post: Final Day - Day 8

Index Page for Hong Kong Trip 09: Return to the Index Page