Final Day - Day 8
Nathan Rd 彌敦道
Despite sleeping at only 2am the previous night, we decided to wake up early on our final morning for a 'last assault' on photographs. We started the day by camping for photos along Nathan Rd where our guesthouse is situated as we settled our breakfast with some buns from Maxim's at Jordan MTR station.
Nathan Rd celebrated its 100th anniversary in 2009 with a number of boards tied to the street signs. Each of these street signs shed light on familiar historic landmarks along Nathan Rd. For example, old cinemas, buildings such as the infamous Chungking Mansions and even old buses were featured.
Some trees were planted along the roadside to help alleviate the feeling of being trapped in a concrete jungle.
Street scene along Nathan Rd in the morning.
The sole Leyland Olympian 'hotdog' on service 81C heads down Nathan Rd towards Hung Hom Terminal. In the background, a gym advertises its facilities with an equally vintage looking sign.
Hung Hom 紅磡
Morning jam at the cross harbour tunnel towards the city. It is really a huge contrast to the rather empty carriageway in the opposite direction! All the cross harbour services call at a common bus stop before the tunnel entrance so that passengers can easily transfer between the different services.
There are 19 cross harbour services with 18 being jointly operated by KMB and either Citybus or New World First Bus. Service 108 is the sole exception as it is operated by only KMB. A Dennis Trident 10.6m was photographed being stuck in the jam on service 108 towards Braemar Hill
0398, a Citybus Volvo Olympian, had such an old fashioned advertisement for Weisen-U (a gastric pain drug) that it actually fits quite well with the Alexander R type bodywork!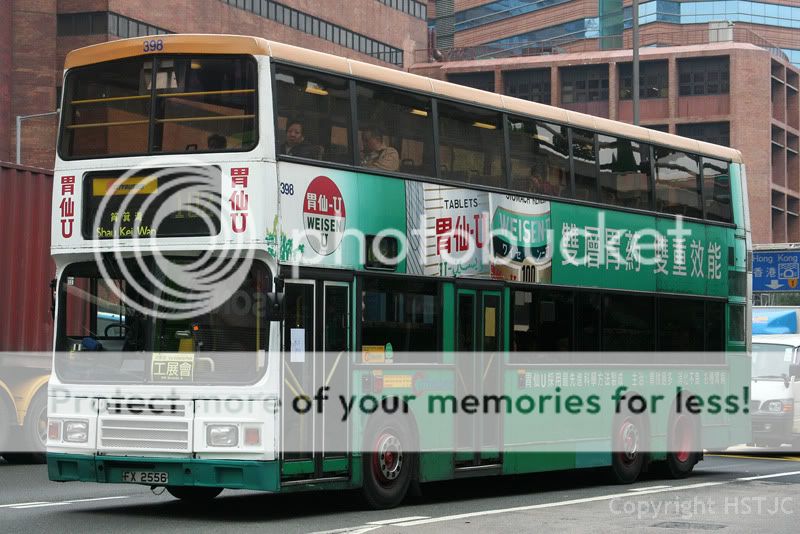 1055 on service 101 to Kennedy Town carries a full body Yahoo advertisement. Passengers could access the internet for free with wifi devices onboard buses with the full body or panel version of this advertisement. However, I can testify that it was not easy to login after repeated tries on my Nokia E66 when riding such a bus a few days earlier!
A rather cute Year of the Ox livery on an Enviro 500 of New World First Bus.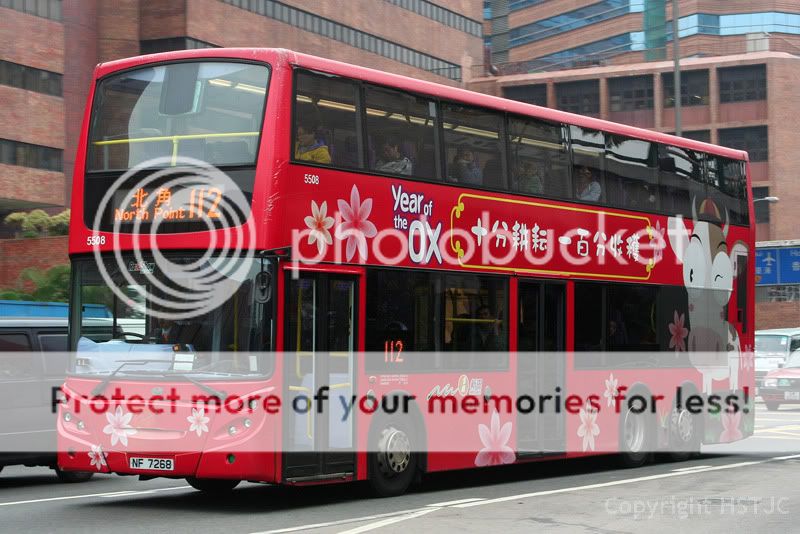 Garuda Indonesia had sought to revamp its image recently by introducing a new livery across its fleet. The new 'Nature's Wings' livery looked just as nice on a double deck as on an aircraft!
We went back to Hung Hom Railway Station and decided to have our lunch at Maxim's Express, which had a similar concept to Cafe de Coral. There was quite a substantial premium on the price due to its location. I eventually settled for what seems to be an imitation of the familiar economical rice dish back in Singapore. There were about 5 dishes for patrons to choose from, and I chose sweet & sour chicken and stewed pork with winter melon.
After a quick lunch, we reasoned that it would be faster to actually head to Central by using the train instead of by bus through the cross-harbour tunnel due to the massive jams which we had witnessed earlier.
Hung Hom Station Concourse. Hung Hom is also the terminal station for both the East Rail and West Rail line, and the 2 lines are split between the 2 pairs of platform.
In order to facilitate transfer passengers, each pair of platform has 1 East Rail and 1 West Rail platform each. Thus, passengers would only need to walk across the platform when transferring between lines. However, this means that passengers who board at Hung Hom have to check the correct pair of platform to head to for boarding either of the 2 lines; failure to do so would certainly mean staring at an empty platform for the next 7 minutes.
Central 中環
A direction pole points the way to the different transport modes outside Central MTR Station.
Big Bus Dennis Condor open top. These buses were purchased from NWFB and converted to Open Top, and is similar to NWFB's own example on service 15C.
Citybus Service 260 picking up passengers from Exchange Square Terminus to Stanley.
The Dennis Condors are often seen working routes to the Southern district of Hong Kong Island, such as service 91 to Ap Lei Chau.
NWFB Dennis Trident with full body Nikon advertisment.
After waiting for to obtain a photo of Rickshaw Bus H1 entering Exchange Square Terminal, we rushed back into the underground maze of Central MTR to make our way to Prince Edward station for some last minute shopping.
Pioneer Plaza - West Main Toys & 80M Bus Model Shop
Pioneer Plaza is a shopping centre located near Prince Edward MTR station and houses 2 popular model shops on the second story. West Main Toys sells mainly aircraft models, while 80M Bus Model Shop deals with mostly bus models. It is interesting that these 2 shops actually face each other!
I was very lucky to be able to purchase the last unit of a Gemini Jets 1/400 Thai Airways MD-11 (old livery) HS-TME as I wanted the model for quite a long time. It is substantially cheaper to buy aircraft models in Hong Kong as they can be up to 50% cheaper than that in Singapore.
Another view of the 1/400 Thai Airways MD11 model.
In addition to the aircraft model, I also got one of the miniature 1/150 scale bus models from 80M Bus Model Shop. It comes complete with a plastic case and a diorama to be displayed on a desk. The Leyland Victory MkII double decker is one of the most iconic buses in Hong Kong in the '80s.
We rushed back to our guesthouse to meet with the others (who had went to stake out for the return trip of the Citybus K94UD demonstrator #2800 on service 788) before heading to the airport together. It was a pleasant surprise that we had managed to chance upon a final ride on the Scania N113DRB double deck for the short trip from Prince Edward to Jordon.
Next and Final Post:
Highlights of UA895
Previous Post:
Shenzhen Day - Day 7