Ulu Ulu Day - Day 3
Despite the general impression that Hong Kong is a cramped and congested city, more than 75% of the total land area is actually countryside, with the bulk of this land area being located in the New Territories. It is also a very popular weekend activity for many locals to head to the countryside to escape the cramped confines of the city, thus leading to the provision of additional recreational bus services on Sundays. These recreational bus services may either have a service number with a suffix 'R' or in the form of 3xx. With an increased number of transport options, it was a logical choice for us to explore the backyards of Hong Kong on a Sunday.
Tourist Day Pass
The tourist pass is a magnetic ticket which allows a visitor unlimited travel on most sectors of the MTR within 24hours of the first ride. The 24-hour validity is excellent as it allows a visitor to have a huge amount of flexibility in exploring the territory as they need not aim to start the day very early in order to maximise the use of the pass. The tourist pass can be bought at the passenger service centres at the MTR stations up to 1 month in advance.
KMB Service 96R - Journey into Sai Kung
This recreational service is a combination of svc 92 and 94, and saves passengers the need to transfer at Sai Kung to Pak Tam Chung and Wong Shek Pier. Like with other most other R suffix services, it only operates on Sundays and Public Holidays.
Many of the older Dennis Dragon in KMB's fleet have a unique 3+2 arrangement so as to provide more seats for passengers. Although it may be crammed, it gave more passengers an opportunity to rest for the long bumpy journey ahead to the hinterlands. Even then, I was actually quite surprised by the demand for this service as the bus left the terminal with almost all the seats taken.
Shortly after departing the terminal, we were greeted by this view of Diamond Hill estate with Lion Rocks hill (狮子山) in the background. Contrary to its name, the estate do not contain any diamond deposits, but its widely thought to be a mistranslation of the Chinese word, 钻石, which can either mean diamond or drilling for rocks in Cantonese. In fact, the surrounding area used to be a quarry before it was redeveloped into a residential estate.
We continue eastwards along the New Clear Water Bay Rd. This was a new road built in the 1980s as the original road was very steep with gradients of up to 1:8, which proved difficult for double deck buses to ply.
Hiram's Highway (西貢公路) is the main arterial road which leads into Sai Kung Peninsula from Kowloon to the south. It was curiously named after the officer-in-charge's obsession with a particular brand of American tinned sausages when the road was reconstructed from a Japanese track at the end of World War II. A portion of Hiram's Highway had been straightened to improve accessibility as shown here. In order to prevent bus captains from speeding dangerously down the slopes at high speeds, there are strategically placed bus stops along the road where it is compulsory for the bus captain to stop before moving off again.
Hebe Haven, otherwise also known as Pak Sha Wan (白沙灣) is a natural harbour in Clear Water Bay and houses a number of private yatch clubs and boatyards. It was unknown how it had taken on the name of the Greek Goddess of Youth, Hebe.
Service 96R makes a detour and call at Sai Kung Terminal to pick up more passengers before heading further into the hinterlands.
Pak Tam Chung (北潭涌) is the main focus of the Sai Kung National Park, and has a Visitor's Centre for Nature Education which was set up by the Hong Kong government. It was especially busy on the day of our visit as it there was a charity event which was being held at the park.
Vehicles require a permit issued by the Country and Marine Parks Authority to proceed further into the protected area.
Free ranging cows roam freely in Pak Tam Chung. Certainly an eye-opener!
Wong Shek Pier 黃石碼頭
Wong Shek lies at the end of Pak Tam Road, and is a recreation area equipped with barbeque pits and other facilities. Wong Shek means Yellow Stone (黄石) in Cantonese, and a yellow rock monument in the barbeque area provides a popular photo location for the many visitors to the park.
In addition, activities such as sailing are also popular.
Wong Shek Pier is often used as a springboard to explore outlying islands in the Sai Kung area. Ferries and speedboats operate on both scheduled and chartered basis across the Long Harbour (大灘海)to outlying settlements such as Tap Mun (塔門) and Chek Keng (赤徑). The clarity of the water in the bay is amazing!
A 10.6m Volvo Super Olympian on service 94 approaches the end of its journey from Sai Kung Terminal. Service 94 is the only regular bus service to Wong Shek Pier on weekdays, and it runs at a frequency of 30-35mins.
Citybus also operates a limited cross harbour recreational service on Sundays and public holidays via the Eastern Harbour Crossing. 698R is a one-directional service which operates 4 trips towards Wong Shek Pier in the morning and the return direction in the evening.
Tai Tan (大灘) Park is another barbeque area located near Wong Shek. The park entrance gateway is pictured here with a typical bus shelter often seen in the New Territories.
A myraid of stickers at the driver's compartment provide gentle reminders to passengers boarding the bus.
Sai Kung Town 西貢市
Over the past few decades, Sai Kung had evolved from a sleepy fishing village into a modern town centre with its streets lined with numerous cafes and seafood restaurants. Its humble beginnings as a fishing village could not be better represented than this art installation at the newly constructed town plaza.
Sai Kung Public Pier. Fishermen sell their catch from speedboats which are moored next to the pier.
A sample of the large selection of the fresh seafood on offer.
The goods are placed in a net and hoisted up to the customer, while the customer places the money in the net in return. It is sure an interesting way to shop!
Numerous information boards are placed along the pier to highlight the diverse range of attractions available in Sai Kung.
Setting off on another weekend odyssey across Pak Sha Wan on a beautiful morning.
Che Zai Mian 车仔面 is a common street food in Hong Kong. Despite the name, it is actually instant noodles with a choice of dishes. Diners typically order using a form where they tick their choice of noodle and toppings such as luncheon meat and meatballs. The noodle is usually sold as a set meal with 2-3 toppings with a hot drink. Unlike Singapore where an iced lemon tea almost certainly meant a can drink, the beverage is prepared by immersing a slice of lemon in chilled jasmine tea in Hong Kong. A long spoon is also provided for patrons to stir and remove the lemon slice if required.
Tsueng Kwan O 將軍澳
After lunch, we proceeded to the residential estate of Tseung Kwan O on NWFB service 792M.

Tseung Kwan O is a relatively new residential estate that was built entirely on reclaimed land. In addition, a large percentage of Hong Kong's entertainment industry is also located in this district, such as TVB City. New World First Bus won the franchise rights to operate public bus services in this residential estate through competitive tendering, and it is certainly refreshing to see an operator besides KMB in the New Territories.
It is important to take note of the suffixes when travelling by bus in Hong Kong, as a service can have a large number of variants which ply entirely different routes. 3 Service 796 Volvo Super Olympians are shown here preparing to turn from Po Yap Rd to Tsueng Kwan O terminal - with the exception that they are of different suffixes and thus plying 3 different routes, being 796C, 796X and 796S respectively.
Tseung Kwan O MTR station has a LCD screen to show the estimated arrival time of the next 4 trains. Lohas Park is another new residential development in the Tseung Kwan O area, and every fourth train along the Tseung Kwan O line terminates at Lohas Park instead of Po Lam.

Owing to land constraint, the construction of the Island Line required creative solutions. One of such is to build curved platforms to accomodate the length of the train. Unfortuately, this design also meant that that the platform gap warnings are to be taken seriously! The Chinese name for Quarry Bay station is 鰂魚涌, which is prounounced as zei2 yu3 chong1.
Siu Sai Wan 小西灣
Chai Wan MTR Station is the only elevated station on the Island line, and is also the terminating station. The vast majority of the rolling stock in MTR's fleet are built by Metro-Cammell, and different codes are given to identify the stock of the train according to the year of introduction.
A typical MTR trainset consists of 8 carriages with 5 doors on each side of the carriage to faciliate the extreme high volume of passengers.
We managed to chance on another short ride on a Neoplan Centroliner on service 84M to our afternoon bus camping location in Siu Sai Wan. Service 84M sees a huge variation in its fleet, ranging from Dennis Darts to Neoplan Centroliners.
In comparison to KMB, NWFB prefers to use Chinese poetry to subtly convey courtesy and safety messages to the passengers. I have to say that they were rather tastefully done! In addition to the bus company, other organisations such as the Department of Health and the Transport Department also paste stickers on the buses.
This Volvo Olympian on service 82 has an interesting destination sign which advertises the excellent frequency of the service. This generally meant a headway of less than 10 minutes.
We decided to make an early move to Stanley as bus photography was increasingly challenging due to the shadows cast by the late afternoon sun.
Citybus Svc 314 - Tai Tam Country Park 大潭郊野公園
Citybus service 314 is a recreational service which runs only on Sundays and Public Holidays, and links Siu Sai Wan to Stanley via Tai Tam Road. Although Tai Tam Road seemed to be an ordinary road on the map, it proved to be a plesaant surprise.
Heading to the junction where the road branches to the popular beaches of Shek O and Stanley. It seemed that the road was cut through solid granite with steep rockfaces on both sides!
Landslides are a constant danger along the road, and demand a fair amount of skillful handling by the bus captains to safely guide a double deck bus through the narrow, winding roads.
We were rewarded a spectacular view of the Tai Tam Tuk Reservoir, which is framed by the surrounding hills such as Mt Butler and Jardine's Lookout. The dam was built in 1912 by the British colonial government when the original Tai Tam reservoir scheme proved to be insufficient.
I could only imagine the awesome view of Tai Tam Bay and South China Sea to the south from these cliffside properties!
Service 314 is a loop service which loops at the Stanley Terminal located besides the Hong Kong Correction Services Museum. 220, a Leyland Olympian 10.6m, was photographed waiting to turn onto Stanley Village Rd for the return journey to Siu Sai Wan.
Stanley 赤柱
Stanley was formerly the administrative centre of Hong Kong after the annexation of Hong Kong in 1842, before it was shifted to Victoria City (where Central district is now). It was named after Lord Stanley, the 19th British Secretary of War and the Colonies.
Stanley Market is a large open-air area where tourists are drawn to the large number of shops selling souvenirs and traditional Chinese garments.
Stanley Main Street offers a number of dining options with in an al fresco setting. A wide variety of cuisine such as French, Italian and Thai could be had here.
Stanley Main Beach is located on the eastern side of the peninsula and is regarded as one of the best beaches in Hong Kong with its clean beaches and excellent water quality. In addition, a number of events were also hosted here during the East Asian Games in December 2009.
Sunset over Blake Pier.
Converted from a former police station, this stately structure now houses a supermarket.
A chart gives an overview of the bus services from Stanley Bus Terminal near Stanley Market.
Instead of returning via the Aberdeen Tunnel on service 6X, we decided to return on NWFB Service 14 to experience the scenery in Tai Tam Country Park again.
Tai Tam Tuk Dam at dusk.
Shau Kei Wan Bus Terminus showing the high rise residential apartments in the background.
Instead of taking the MTR from Shau Kei Wan to Causeway Bay, we decided to hop on a new NWFB Enviro 500 double deck instead.
A pleasant blue and purple scheme was employed for the interior of the Enviro 500 fleet. Both Citybus and NWFB share the same interior for their Enviro 500 buses.
Causeway Bay 銅鑼灣
Causeway Bay is one of Hong Kong's busiest shopping districts, and includes familiar retail landmarks such as the newly opened Times Square and Sogo Department Store. Since it was a Sunday evening and most of the eateries in the vicinity were very crowded, we decided to settle for dinner at MacDonalds. I had a chicken teriyaki burger meal (~S$4.95) which was excellent. Many shops in Causeway Bay are split over a number of levels due to scarce available retail space, and MacDonalds is no different as shown from the address printed on the receipt.
Hong Kong Trams are one of the oldest form of public transportation in the territory, and are fun to sit in for short distances are they tend to be rather slow as compared to buses and trains. It charges a flat fare of HKD2, and passengers enter from the front door and pay when they exit from the front.
Many of the trams have full body advertisements which transform the aterial roads of Hong Kong Island into a moving procession of giant billboards. Tram number 074 was photographed wearing an advertisement to promote the East Asian Games which was being staged in the city during our visit.
Evening street view along Johnston Road in Wan Chai district.
We decided to head back to Causeway Bay using our Tourist Day Pass after being to find a good location in the Central and Sheung Wan district to camp for photos of trams.
Many of the stations along the island line feature calligraphy of the station names on the walls.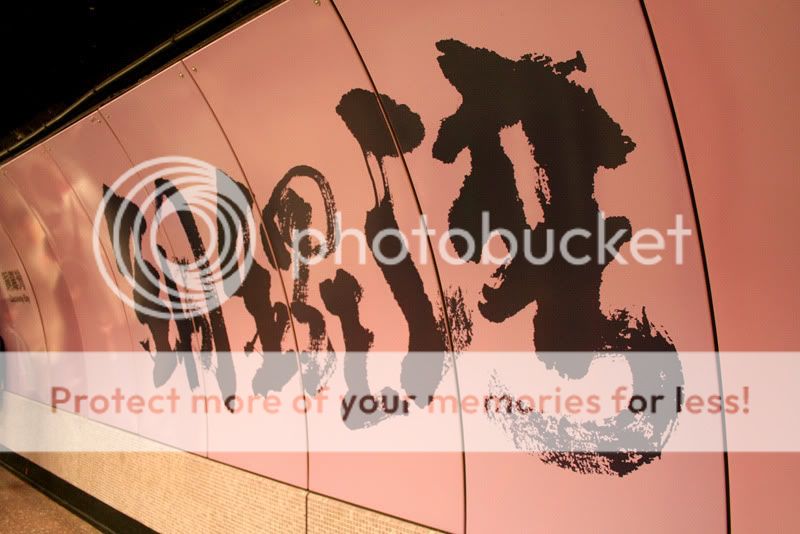 It was possible to obtain photos of buses without using a tripod as the streets were brightly lit by the surrounding shops and malls.
Buses and Trams share valuable road space in Hong Kong. The busy and sophiscated shopping district was a huge contrast to the peaceful country parks which we had visited earlier in the day!

Next Post:
Lantau Day - Day 4
Previous Post:
West Rail Day - Day 2