Lantau Day - Day 4
Tung Chung Line 東涌綫

The Tung Chung Line is different from the other MTR lines in Hong Kong as most of the track is located above ground level. The line was opened together with the Airport Express Line in June 1998 to provide a fast connection between Hong Kong Island and the new residential estate of Tung Chung which is situated near Chek Lep Kok airport.

We had an early start at Jordan MTR to ensure that we enter the paid area within the 24hour validity period of our tourist day pass. However, we ran into some problems as only a few ticket barriers at the station were able to recognise the Tourist Day Pass as being valid for travel.



Central MTR station on Hong Kong Island is an interchange station for 4 MTR lines, namely the Tsuen Wan Line, Island Line, Tung Chung Line and the Airport Express. Thus, there were a plethora of signs in the station concourse to guide passengers to their desired platforms and exits.



It takes about 5-10mins of walking through the cavernous station concourse in order to reach the Hong Kong MTR station where the Tung Chung Line and Airport Express Line platforms are located. A section of the concourse (as pictured below) looked remarkedly similar to a certain transfer concourse along the NEL in Singapore!



The bulk of the trainsets deployed on the Tung Chung line are technically similar to the stock used on the Airport Express Line as they ply along the same tracks for much of the line. These trains, also known as 'A stock', were built by Adtranz (now Bombardier) and Construcciones y Auxiliar de Ferrocarriles (CAF) between 1994-1997 and feature plug doors for lower cabin noise levels while travelling at higher speeds.



Unfortunately, we rushed onto a train at the platform at Hong Kong MTR station earlier without realising that it is a morning peak shortworking trip that terminates at Tsing Yi Station. We were unceremoniously booted out of the train at Tsing Yi and waited a couple of minutes for the next train towards Tung Chung.

Interior of an A-stock train with the standard MTR stainless steel seats and grab poles.



Tung Chung 東涌

We had deliberated over our Lantau sightseeing plan for quite a long time before finally deciding to visit Tai O first before Po Lin Monastery / Big Buddha in order to maximise our available time. This was mainly due to the fact that the Ngong Ping 360 cable car only begins operation at 10am, and we wanted an early start to make use of our Tourist Day Pass for the relatively expensive ride on the Tung Chung Line.

New Lantau Bus (NLB) is the main bus operator on Lantau Island with a substantial amount of its operation based from the Tung Chung Bus Terminus adjacent to the Tung Chung MTR station and Citygate Mall.



Service 3M links Tung Chung to Silvermine Bay, or Mui Wo located to the south of Lantau Island. Prior to the opening of the Tung Chung Line, visitors often would take a ferry from Central Piers to Mui Wo before transferring to another bus to the Big Buddha at Po Lin Monastery. ILS121 is an Isuzu JALMT112 fitted with a manual Isuzu gearbox to allow it to handle the hilly terrain better. This batch of Isuzu buses with the distinctive China Kong bodywork are also the last in NLB's fleet to have 5 abreast seating arrangement.



In addition to outlying routes, NLB also operates feeder services using normal citybuses to the residential estates around Tung Chung. VL06 was photographed returning to Tung Chung Interchange after working service 38 to Yat Tung Estate. NLB had bought a batch of 6 Volvo B6LE (VL01-VL06) from Citybus in mid 2007 to supplement its residential services.



ILS137 with Asia 4EIII bodywork picking up passengers outside Fu Tung Shopping Centre on service 11 to Tai O. Service 11 operates at a frequency of approximately 30-40mins during off peak hours, but a timetable with approximate departure times from Tung Chung and Tai O is available on NLB's website for reference.


Tai O 大澳



Tai O is a fishing village located on the western shore of Lantau Island. It is also a popular destination among both tourists and locals for its unique stilt houses and the wide variety of sea produce. Part of the village is actually located on an island of the same name, and is linked to the main island by 2 bridges.

Fishing boats moored in the bay in front of Tai O town between fishing trips.



Disused salt pans are converted into a mangrove natural conservation area. The confluence of salt water and fresh water at Tai O provides an especially favourable environment for the formation and growth of mangrove swamps.



Rudimentary signs point visitors the way to the village centre from the bus terminal. A signboard advertises a boat tour to spot Chinese Pink Dolphins frolicking in their natural habitat in the waters off Tai O. It costs HKD20 for the twenty minute trip where visitors are almost guarenteed a glimpse or two of a dolphin. Unfortunately, it had been widely reported that these light and fast moving boats caused a number of injuries to the resident dolphins who were unable to avoid them in time.



This drawbridge is one of the most prominent landmarks in Tai O, and connects Wing On St on Lantau Island to Kat Hing St on Tai O Island. Before this drawbridge was built in the last decade, the only way to cross the narrow river channel would be by a small flat bottom boat (known as 横水渡) which had to be manually pulled across the channel.



Rustic wooden stilt houses (棚屋 ) line the coast....



...As well as along the river bank. Instead of cars parked in the driveways, residents have boats tied to their houses.



Sun Kei bridge. A People's Republic of China flag flies proudly in the morning breeze with the highlands of Lantau Island in the background.



Dried seafood products on sale along Wing On Street in Tai O.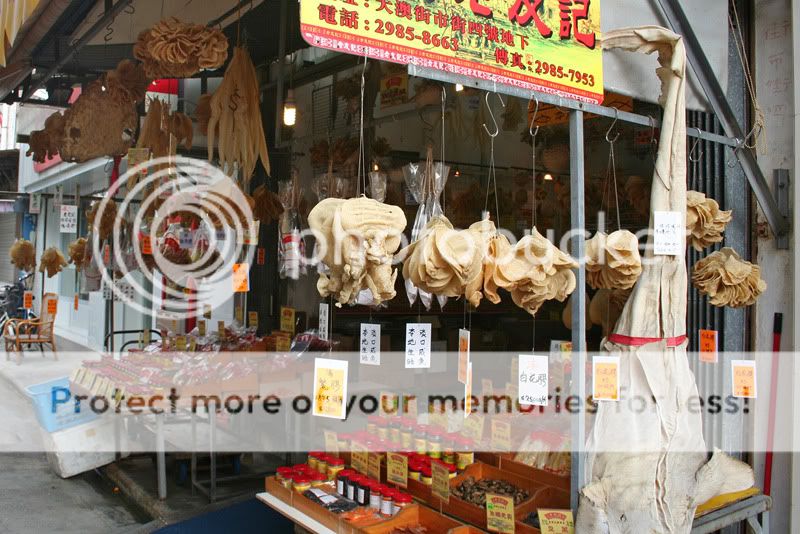 NLB Service 21 provides a convenient link between Tai O and Ngong Ping where the Big Buddha is situated. With the exception of Sundays and Public Holidays, the service has a 1hr frequency. However, like many other NLB services, the bus fares on Sundays and Public Holidays are more than twice that of the fare on other days!

MN42, a MAN 18.310 in coach configuration, awaits its next departure from Tai O Bus Terminal. The bus also has an advertisement which pledges the Outlying Island district's support for the 2009 East Asian Games.



Po Lin Monastery 寶蓮禪寺 / Tian Tan Big Buddha 天壇大佛

Entrance gate to Po Lin Monastery, which is located next to the Big Buddha.



The bronze Buddha is the world's second largest outdoor seated Buddha statue at 34m tall and was completed in 1993. However, getting to the base of the Buddha requires one to climb 268 steps!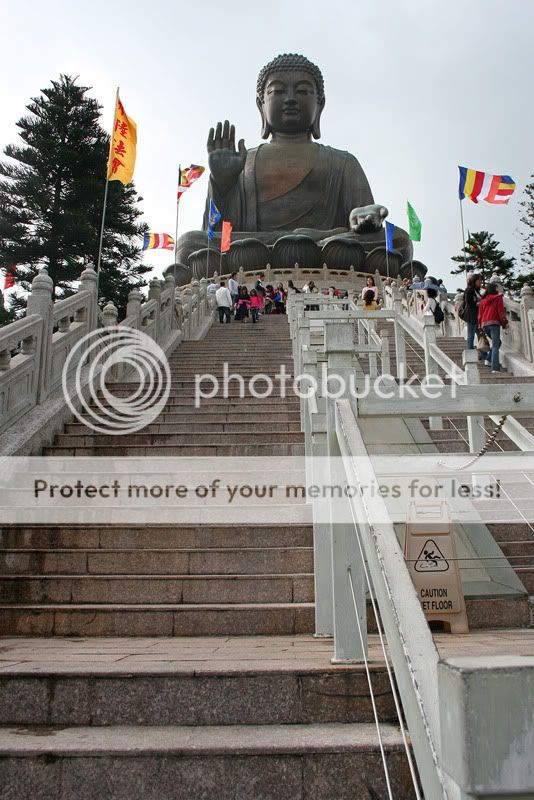 After an exhausting climb up the steps, one is rewarded with a view of the Ngong Ping plateau below.



Statues of other goddesses making offerings to the Big Buddha



Po Lin Monastery entrance hall.



Following which, we had a vegetarian lunch at Po Lin Monastery, which costs HKD60 (~S$10.80) per person for the standard spread. The meal ticket also allows one to access the 3 storey museum featuring Buddhist paintings and artifacts which is located at the base of the Big Buddha. The lunch was quite sumptous, which included unlimited refills of soup and rice, and hot tea is also provided. There is a minimum of 5 persons to a table The servings are quite generous, and we particularly enjoyed the fried fritter seen in the top right corner of the photo. However, do be prepared to wait for at least 15-20 minutes for the dishes to be served! Photo credits to ZYX



Ngong Ping 360

One of the highlights of our trip was to experience the cable car system between Tung Chung and Ngong Ping. The 5.7km long cable car system was opened in 2006 and the bi-cable gondola lift system is supported by 8 towers and 2 angle stations.




Ngong Ping Village entrance.



Ngong Ping Village is a cultural themed site built besides the Ngong Ping Cable Station, and offers a variety of dining and entertainment options.



The serene setting of the Big Buddha as viewed from Ngong Ping Village.



Ngong Ping Cable Car station.



Cable cars arriving and departing from the station. Each cable car can carry 10 passengers.



Standard Cabin for the not so adventurous folks.



We decided to try the newly introduced Crystal Cabin for the ultimate experience. The crystal cabin features a tempered glass floor where one can peer out at the lush vegetation and the sea along the route. MTR had thoughtfully included a 10% discount coupon on the Ngong Ping 360 when we had purchased the Tourist Day Pass, which we were able to put to good use.



Since it was an early afternoon on a weekday, we were able to have a cabin all to ourselves. The first few moments when the cabin left the station was one of pure exhilaration as the ground rapidly recceded from view. This is because the cable car system makes a uphill journey after leaving Ngong Ping to crest a ridge before descending gradually towards Tung Chung. In addition, one could also feel the cabin gently rocking sideways due to the strong mountain breeze. The ventilation in the cabin is excellent with sliding windows at the top of the cabin and air grilles located behind the bench seats. Definitely not for the faint hearted or with vertigo!

Looking back at Ngong Ping & the Big Buddha



After cresting the ridge, Chek Lap Kok airport comes into view on the portside for the rest of the journey. The airport was built entirely on reclaimed land, and is one of the busiest airport and cargo centre in Asia.



Owing to the hilly terrain, much of the contruction material for the cable car system had to be transported by mules. A hiking trail runs under the cable car route and is ranked as one of the more challenging routes in Hong Kong despite the fact that the trail is boarded. Tung Chung Residential Estate could also be seen to the right of the photo.



The Leitner cableway system consists of 2 angle stations where the cable cars are temporarily disconnected from the main cable and guided through a set of rollers to enable a change in direction. After a leisurely descent down Nei Lak Shan (彌勒山), cable cars would make a 60 degree turn at Airport Island angle station towards Tung Chung station.



Approaching Tung Chung station at the end of an exhilarating 30 minute ride.



Discovery Bay 愉景灣




Discovery Bay is a high-end private residential development located along the eastern coast of Lantau Island. Private vehicles and taxis are banned from the development itself, and residents primarily rely on the shuttle bus services provided by Discovery Bay Transit Services Limited (DBTSL) to get around the development. In addition, residents are also able to commute within the development in golf carts. However, the government imposes a restriction of only 500 golf cart licenses, thus it could cost one over HKD$1mil to just own such a vehicle!

Discovery Bay Town Centre. The Bus Terminal is located together with a shopping centre and a pier with 24hr ferry services to Central Piers in Hong Kong Island.



Colourful children artwork featuring Discovery Bay adorn coaches which ply on service DB02R to Chek Lap Kok Airport.



DB162 is a 9.9m MAN NL273 which meets the stringent Euro IV emission standards. The stunted look of the bus is the result of a combination of the short chassis length and the design of the Gemilang bodywork.



We took a short joyride on DBAY120 on feeder route 7 (though it actualy displays route S4 in this photo). DBAY120 is a Mercedes Benz O405 fitted with an early generation Hispano bodywork, and is technically similar to the hundreds of Mercedes Benz O405 buses in SMRT's fleet in Singapore. It was ironic that we had travelled thousands of km only to ride a bus which is commonplace in Singapore!



DB03R is an trunk service which links Discovery Bay to Sunny Bay MTR station. This allows residents a more convenient option to head to the city instead of having to backtrack to Tung Chung MTR. DBAY70 is seen here basking in the evening sunlight at Sunny Bay Bus Terminal, where it is also the sole scheduled public bus service.




Disneyland Resort Line 迪士尼綫

Disneyland Resort Line was opened to serve the Hong Kong Disneyland in 2005. A new interchange station along the Tung Chung Line was built at Sunny Bay to allow a seamless connection between the rest of Hong Kong and the new theme park. This line features driverless trains which was converted from the old Metro-Cammell 'H' stock. They feature couch seating, bronze figurines of popular Disney characters, as well as windows shaped like Mickey Mouse's head.

We took the train for a total of 2 round trips between Sunny Bay and Disneyland Resort to fully soak in the experience. By combining it as a detour to our original journey to Tsing Yi, we enjoyed a complimentary ride on the line as well since we had stayed within the paid area.



Sunny Bay Station sign



Sunset over Sunny Bay station. The middle tracks are used by the Airport Express trains which bypasses the station, while the outer 2 tracks are used by the Tung Chung line trains which call at the station.



Sunny Bay Disneyland Resort Line platform. Sunny Bay is also the first MTR station in Hong Kong to feature the famous half-height platform doors, and rely on its airy open-air design for ventilation.



View of the driver's compartment which had been converted to driverless configuration.



Interior of a carriage featuring the unique couch seats instead of the usual stainless steel benches. The handgrips, as well as the windows, are also in the shape of Mickey Mouse's head.



Bronze figurines of popular Disney characters such as Mickey Mouse, Donald Duck and Tinker Bell are displayed in the train carriages.



Photos of old Disneyland rides are tastefully displayed at the articulated sections of the train.



In addition, MTR also recorded special announcements for the Disneyland Resort Line to complete the 'magical' experience. As with the normal train announcements, they are in Cantonese, Chinese and English.

From Sunny Bay to Disneyland Resort:

歡迎乘搭迪士尼線
Welcome to the Disneyland Resort Line.
我們即將帶你進入香港迪士尼樂園的奇妙世界。
We will soon arrive at the magical world of Hong Kong Disneyland.
迪士尼站。祝大家有奇妙的一天。
Disneyland Resort Station. Have a magical day!

From Disneyland Resort to Sunny Bay:

歡迎乘搭迪士尼線。
Welcome to the Disneyland Resort Line.
我們即將帶你回到現代化的香港。
We now bring you back to the modern city of Hong Kong.
欣澳。乘客可以在這個充滿時代感的車站換乘東涌線。
Sunny Bay. The futuristic gateway to the Tung Chung Line and modern Hong Kong.
多謝乘搭迪士尼線。
Thank you for travelling on the Disneyland Resort Line.

Disneyland Resort Station



Disneyland Resort Line train picking up passengers at the single platform at Disneyland Resort. The trains run at a frequency of 5mins, and links Sunny Bay with Disneyland Resort in only 3.5mins.



Park Island 珀麗灣
Park Island is a private residential area located at Ma Wan, which is an island in the Tsuen Wan district. It has a similar concept to Discovery Bay where its relative isolation allows for a peaceful living environment for the residents, and private vehicles are not allowed on the development as well. It can be accessed by bus services from Tsing Yi, Kwai Fong, Tsuen Wan and Central Piers, as well as by regular ferry services.

Maritime Square is a shopping mall adjacent to Tsing Yi MTR Station, and is also one of the properties built by MTR to diversify its revenue sources. The mall featured a Hello Kitty themed Christmas decoration where a long queue was formed at the central atrium as crazed fans waited to exchange shopping receipts for collectibles.



Franchised services bus terminal at dusk. Hong Kong bus services are divided into franchised and non-franchised services. Franchised services would be the equivalent of our normal trunk routes, while a good example of an equivalent non-franchised service in Singapore would be the recently launched RWS services to Sentosa. It was not easy to locate the boarding berth for the Park Island service in the vast and confusing complex as it was a non franchised service, and hence depart from a different terminal at Tsing Yi.



NR330 links Tsing Yi MTR station with Park Island using a fleet of Dennis Darts. MW3933 is a Dennis Super Pointer Dart and has an Airport Shuttle livery instead as it normally plies the airport route NR334.



After a short ride, we arrive at Park Island Town Centre. The icnonic Tsing Yi bridge can be viewed in its full glory as the bridge runs through part of the island.



Ting Kau Bridge as seen from the same location outside the transport terminal at Park Island.



NR332 serves Kwai Fong Metropolis Plaza on the mainland. LL5808 is a Plaxton bodied Dennis Dart which was bought over from KMB, and wears the standard Park Island Transit livery.



A star attraction at Park Island for bus enthusiasts is the sole Designline Olymbus which is operated by Park Island Transit. In addition to its unique curvaceous bodywork, the New Zealand manufactured bus is also an environmentally friendly hybrid vehicle which runs on both electricity and diesel.



Tsuen Wan West 荃灣西

Park Island has a convenient ferry service which links the town centre with Tsuen Wan Ferry Pier where passengers can transfer to the Tsuen Wan West MTR Station. It is possible to pay for the fare using the Octopus Card. Park Island residents enjoy a subsidised fare on both Park Island Transit bus and ferry services by using their registered Octopus card.



We decided to settle our dinner at Cafe de Coral located at Citywalk, which is a new shopping mall located besides Tsuen Wan West MTR station. I had the Shanghai Pork Ribs set meal (HKD34, ~S$6.10) which had a generous portion of rice (with vegetables), and a serving of succulent pork ribs with a side of pickled vegetables.



We waited at Nina Tower bus terminal for a Leyland Olympian 'hotdog' as service 33A has the highest chance of being able to ride on one. In comparison to the Dennis Dragon 'hotdogs' in KMB fleet, the Leyland Olympians has a Alexander R type bodywork instead of the usual Duple Metsec bodywork.



Lower deck interior of the Leyland Olympian with old fashioned brown seat covers. Unfortunately, we were not able to open the top deck front sliding window during the ride as it was raining.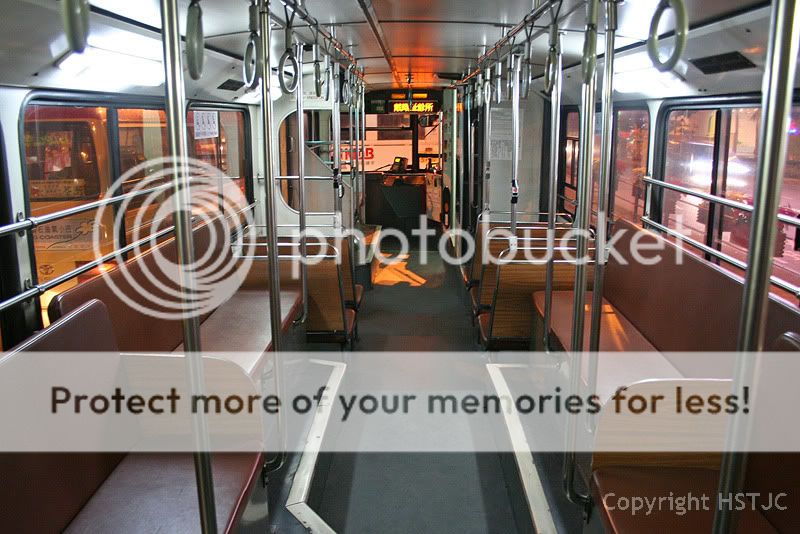 We transferred to another 'hotdog' on service 6A back to our guesthouse since service 33A terminates at an obscure location in Mongkok.



Next Post: Macau Day - Day 5

Previous Post: Ulu Ulu Day - Day 3