Guesthouse, Planning and Overview
Overview




Day 1 (Arrival Day) click here
Bus Spotting: Wui Cheung Rd Terminal, North Point, Shau Kei Wan
Sightseeing: Victoria Peak

Day 2 (West Rail Day) click here
Bus Spotting: Tuen Mun, Yuen Long, Hong Kong-Macau Ferry Ter
Sightseeing: Lau Fau San, Rickshaw Bus H1, Star Ferry, Bauhinia Square, Avenue of Stars

Day 3 (Ulu Ulu Day) click here
Bus Spotting: Tsuen Kwan O, Siu Sai Wan, Stanley, Causeway Bay
Sightseeing: Sai Kung, Wong Shek Pier, Stanley

Day 4 (Lantau Day) click here
Bus Spotting: Tung Chung, Discovery Bay, Park Island
Sightseeing: Tai O, Ngong Ping Big Buddha & Po Lin Monastery, Discovery Bay, Park Island, Disneyland Resort Line

Day 5 (Macau Day) click here
Bus Spotting: Barra, Taipa
Sightseeing: Barra, Taipa, Senando Square & Ruins of St Paul, The Venetian

Day 6 (East Rail Day) click here
Bus Spotting: Kam Sheung Rd, Tai Po, Fanling, Sheung Shui, Yau Yat Tsuen
Sightseeing: Route Twisk, Hong Kong Railway Museum
Shopping: Langham Place (80M Bus Model Shop)

Day 7 (Shenzhen Day) click here
Bus Spotting: Shenzhen: Window of the World, Zhu Zi Lin, Yan Tian; Hong Kong: Mei Foo, Tsuen Wan
Sightseeing: Sha Tou Jiao, Luo Hu
Shopping: Yuen Long Castle Peak Rd

Day 8 (Departure Day) click here
Bus Spotting: Hung Hom, Central Cross Harbour Tunnel, Exchange Sq Ter
Shopping: Pioneer Plaza (West Main Toys & 80M Bus Model Shop)

With 1076 square kilometres of land and 18 administrative districts, Hong Kong is by no means compact as one would had thought it to be. Thus, our planning for the trip began as soon as we had booked our air tickets, and continued on to the day of our trip departures. It was not easy cramming in all the different bus spotting targets and sightseeing locations into 8 days, but we sure gained a lot of knowledge about the transport network in Hong Kong by they time we were done!

City Maps, Guides, e-mail confirmations and e-tickets. KMB publishes a bus guide cum map every 2-3 years, with the proceeds going to the Hong Kong Community Chest. KMB offers a HKD18 discount for the 2009 bus guide by presenting a coupon which one can print out from their website at their passenger service centres. It costs HKD48 per copy (HKD30 after discount). However, the KMB Bus guide only covers routes operated by KMB.

Universal Publishing has an amazingly detailed Public Transport Atlas which covers all the operators including trams and public light buses. It costs HKD58 and is available at some bookstores and 7-11 outlets in Hong Kong.



An excerpt from the public transport atlas showing the different transport options around our guesthouse. Mind boggling to say the least, but it pays to stay at Nathan Rd with the amount of transport flexibility it affords!



A list of some of the internet resources consulted during planning.

MTR Corporation, Hong Kong
Train information
http://www.mtr.com.hk/eng/homepage/cust_index.html

Kowloon Motor Bus (KMB)
KMB is the largest bus operator in Hong Kong and mainly operates services in Kowloon and New Territories.
http://www1.kmb.hk/en/

Mapbar - Hong Kong Public Transport Enquiry
This website has route maps of all KMB services and bus services in Shenzhen, allowing one to easily visualise the route on the map. However it is a little outdated, but still very useful.
http://bus.mapbar.com/list/bus_line.jsp?city=hongkong&init=2

Citybus and New World First Bus
These 2 companies under the Chow Tai Fook group mainly operates services in Hong Kong Island.
http://www.nwstbus.com.hk/home/default.aspx?intLangID=1

New Lantau Bus
As the name suggests, this company mainly operates services in Lantau Island.
http://www.newlantaobus.com/main.html

hkitalk.net Bus Enthusiast Website
Fleet updates, Photos and News of the current public transport scene in Hong Kong and surrounding territories such as Macau.
http://www.hkitalk.net/HKiTalk2/index.php

i-busnet
This website provides detailed fleet information and deployment of the buses in Hong Kong and Macau.
http://i-busnet.com/

Open Rice
This website allows one to search eateries in Hong Kong by districts.
http://www.blogger.com/www.openrice.com

MTR tickets and guides accumulated during the trip, as well as an Octopus card (Hong Kong's equivalent of our CEPAS card).



Golden Island Guesthouse 金岛宾馆

Accomodation in Hong Kong is by no means cheap, and most hotels charge at least S$100 per day for a twin sharing room during the peak season. As we do not plan to spend much time in our accomodation anyway due to our packed schedule, we opted for a cheap, basic guesthouse instead. We found this guesthouse through asiarooms.com, and decided to choose this due to its convenient location, and the fact that the room photos posted on its website looked rather decent (or so we thought). It costs HKD250 per night for a twin sharing room, and HKD350 for a triple sharing room per night.
http://www.gig.com.hk/EN/01en.htm

Golden Island Guesthouse is a family run guesthouse which takes up about a third of the 7th floor of Alhambra Building which is located opposite Eaton Hotel along Nathan Road. It is situated halfway between Jordan and Yau Ma Tei MTR station on the Tsuen Wan Line.

We got a shock initially when we took the cargo lift up from the rear entrance, before realising that there is another lobby where the lift entrance is directly in front of the entrance to the guesthouse.

Ground floor lobby of the building with a listing of the many guesthouses occupying the various floors. It is somewhat like the infamous Chungking Mansions in that regard, but it feels safer. There is a 24 hour security post which faces the lift landings as well.



The guesthouse comprises of 3 adjacent flats with a total of 20 rooms. The elderly propertier and propertriess lives in one of the rooms, and they mainly speak Teochew and very limited Cantonese and Chinese. They have a daughter who handles the online bookings through the guesthouse's website.



Triple Sharing room. As with most Hong Kong hotels, space is a huge premium. There is just enough room to place the luggage and move around without knocking over everything in the process. The rooms are sparsely furnished but clean.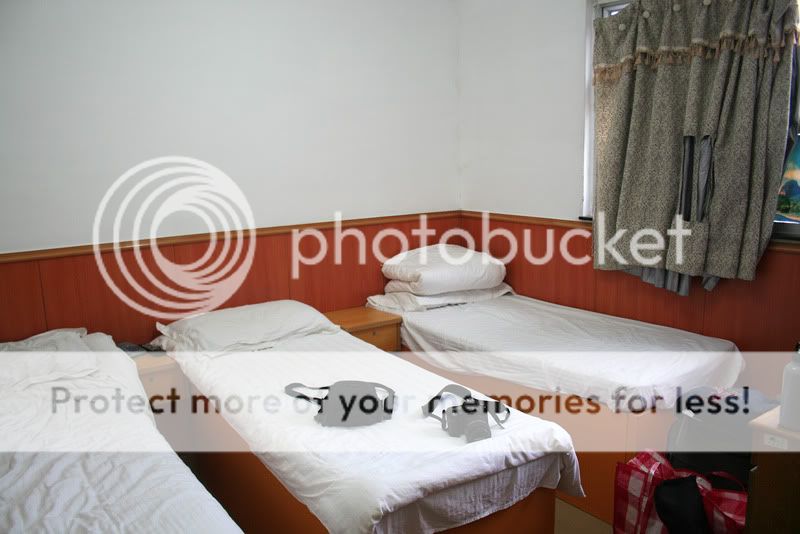 View from the other side of the room, showing the split airconditioner and a LCD TV. Hot water is obtained from the counter in the hall in the form of an old fashioned thermos flask.



Since many of the rooms faces Nathan Road, the guesthouse is not suitable for those who are easily disturbed by noise. We were lulled to sleep each night with the engine sounds of the many buses which pass by below, and were woken up with the deep roar of the Neoplan Centroliners echoing down Nathan Road.

Our window view afforded us with a view of Gascoigne Road, as a long line of double deck buses await their turn to turn right onto Nathan Road during the morning peak as shown in the photo below. These are mainly the cross harbour services which uses the busy Central Harbour Tunnel which connects Hung Hom to Causeway Bay. These services have 3 digit service numbers starting with 1, such as 102.



Each room has its own en-suite toilet with all the essential amenities. The toilet door cannot be locked properly, but is instead jammed shut by friction.



Next Post: Victoria Peak & Others - Day 1

Previous Post: Highlights of UA896