Highlights of CA957
Announcement

This post is the final post of the Fujian section. To read this section from the other posts, please kindly use the Stopovers sidebar or click on the following link to go to the first post First Post of Fujian Section.

Thank You for visiting my blog and I hope you have a pleasant reading experience!

~

Date: Wednesday, 05 Aug 09
Sector: Xiamen Gaoqi (XMN) -> Singapore Changi (SIN)
Aircraft: B-5177, B737-808
Seat: 20A
Departure Gate: 9

Scheduled Departure Time: 1745 LT
Actual Departure Time: 1800 LT

Scheduled Arrival Time: 2200 LT
Actual Arrival Time: 2210 LT
Arrival Gate: D38

Check-In

Both domestic and international flights share a single terminal with different entrances to each section. I was very surprised that although Xiamen has a significant number of international flights, the layout and check-in procedure is similar to that of Nanning airport. The entrance to the international departure concourse is only open 3hrs before each flight, and it seemed that the international departures from Xiamen are grouped in 'waves'. This meant that a long queue quickly formed in front of the entrance as there were 3 international departures between 1700hrs - 1800hrs. This also meant that early check-in was not an option for passengers.



Four check-in counters were opened for our flight but the LCD screens showed that they would only accept check-in of passengers 2hrs before departure. The information on the LCD screen were displayed in Chinese, English and Japanese. True to their word, the police officials and staff streamed in 5mins before and attended to the first passengers exactly at 1545hrs.



Check-in hall



After clearing immigration and security, I went straight to the gate area and stationed myself in front of one of the many large panaromic windows which afford a clear view of the apron



Spotting

Hainan Airlines B737-400 B-2576 is one of the first Chinese aircraft to sport a special livery.



Xiamen Airlines B737-700 B-5219. This aircraft has the 'transition' scheme which has the cheatlines only dipping slightly downwards in front. The new livery has the cheatlines extending all the way to the belly.



Air China B737-800 B-2645 is one of the first B737 Next Generation aircraft to join Air China, having being delivered to the carrier on 29 Nov 1999. Air China now operates an impressive fleet of 57 B737NGs.



An engineer sits on the tarmac in front of a China Southern B733 B-2539 as the crew was probably not ready for taxi after being pushed back from the gate



Shanghai Airlines B-2539 B757-200 gets airborne for an evening rotation to Shanghai



Philippine Airlines A320 RP-C8613 being parked at gate 10. The overcast conditions and the dark clouds in the background were due to Typhoon Goni which was ravaging neighbouring Guangdong province.



China Eastern A320 B-6262 applying reverse thrust after landing on runway 05



China Southern A320 B-6292 taxiing into the apron. CZ operates a varied fleet into XMN which includes MD90



Deer Air A320 B-6222



Yangtze River Express B733F B-5057 sports a similar livery as the carrier is also part of the Hainan Airlines Group. I prefer the former green and yellow based livery which features a cartoon rendition of a running green bean - which led to many of us referring to the airline as "Green Bean Express" instead when it used to operate to SIN



China-SSS / Spring Airlines is one of the pioneering LCCs in China. However, I'm definitely not a fan of this livery! B-6039 A320



With such interesting subjects, it was easy to lose track of the time. 1630hrs came and went, but there was still no sign of the B738 which would operate my flight back home. Just as I was about to head back to one of the numerous free internet access terminals in the gate to check on the status, I caught sight of a white B738 without any cheatlines on its fuselage on final approach. Surely it couldn't be?

Yes, it was! Olympics 2008 special livery B-5177. It would also be my first flight on a special livery aircraft



The Flight

It would be unfair to state that normal passengers would not care even if the aircraft has a special livery. Not when an estimated 95% of the passengers are mainland Chinese and the successful hosting of the 2008 Olympics is still an immense source of national pride even after a year to most.

"WAH! FU WA!" A chinese teenager exclaimed to her equally excited friend and poses for a photo while her friend frantically finds her camera. Meanwhile, even the "ah peks" and "ah sohs" whipped out their camera phones, video cameras etc. and crowd the windows for a photo of this special aircraft which they were going to fly on



View of the waiting area as our flight is being called for boarding. I could not understand to this day the rationale for mainlanders queueing right after they had reached the gate area when the seats had been assigned. An Air China staff walked among the crowd and requested for bulky items to be checked-in instead



As boarding announcements were only made in Chinese and the LCD screen was not very clear, a Caucasian couple looked very lost and finally decided to join the queue. I love Chinese airports for returning the larger portion of the boarding pass!



My heart literally skipped a beat when the cabin crew announced a delay, and my mind flashed back to the 18hr delay I had encountered on my outbound flight. Thankfully, it was only due to the fact that they had not completed the loading of the catering as the aircraft had arrived late. I noted that inflight magazines were missing from many seats and not all seats had the required safety card.

The safety video was being played as we were being pushed back, but I was paying more attention to this Chang'An Airlines B738 B-5115. It seemed that Hainan Airlines Group had made its mark everywhere!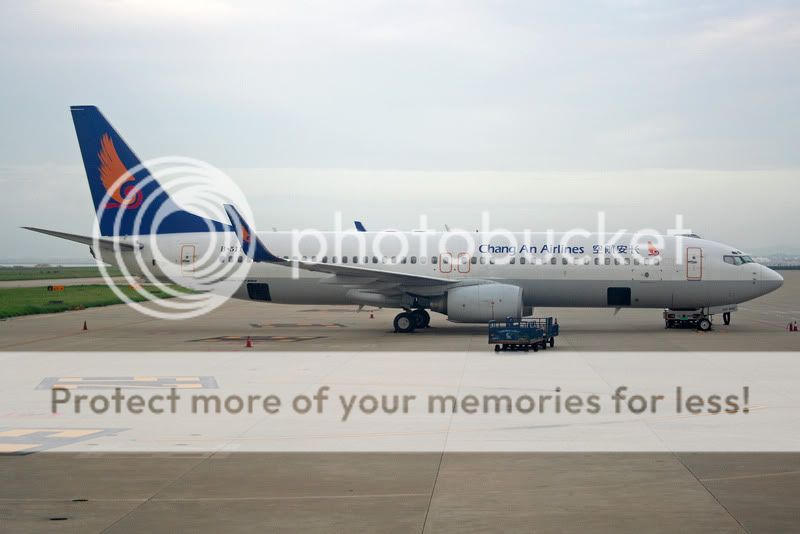 Xiamen Airlines B737-800 B-5152 being pushed back from her gate for her flight to Singapore also



We turned onto runway 05 without delay and quickly accelerated down the runway and took off after a very long takeoff roll. Jimei bridge can be seen in this photo and it was evident that Xiamen would experience a heavy downpour soon from the dark and heavy clouds



Following a very turbulent climb, the aircraft finally levelled out, catching the final rays of the setting sun



It looked that there would be a full moon tonight!



The meal was finally served an hour after takeoff and a choice of seafood pasta or chicken with rice was offered. However, the crew had ran out of the chicken option when they had reached my row and retrieved them from the other trolley when I informed her that I have a seafood allergy.The taste of the stir fried chicken pieces was average but the bamboo shoots were terribly salty. The pickled cucumber appetiser was sastifactory, as well as the peices of melons which made up the dessert dish. Fortunately, the bun was not as rock hard as it looked in the photo!



Following the meal service, an inflight sales service cart was pushed from one end of the cabin to the other end with hardly a sale. It was a shame that Air China didn't have any inflight models for sale onboard as I would expect a twin pack Herpa 500 featuring two of their beautifully painted A330s would prove popular among the passengers on international flights.

Singapore immigration forms were distributed by the crew and many started asking for assistance in filling them. Despite countless screenings of a video on the overhead screens which contained very detailed instructions, much of the English illiterate passengers could still not understand. Thus, the flight stewardesses became parttime form fillers and painstakingly filled up the forms for their their fellow countrymen.



My request for a pack of playing cards was quickly met and out of curiousity, I opened the plain looking box. I was surprised to note that each of the numbered cards contains a different safety message! I figured it was very creative for Air China to include relevant safety messages on the playing cards as many passengers favour playing cards as a means of passing the time on a long flight, especially as most of their fleet do not come equipped with IFEs. I felt like kicking myself for not requesting the cards on my outbound flight for another deck.



After the screenings of "Singapore Immigration Card - Instructions", a western romance movie was shown on the overhead screens. However, only Chinese is available from either of the 2 audio channels which were allocated to the overhead video screens. I spent my time admiring at the full moon instead as I never knew that a full moon appeared so bright at 36,000ft



Following a very bumpy decent through the clouds over Johor, we made a smooth landing onto runway 20R 2 minutes after 10pm and quickly taxiied to Gate D38. Immigration and baggage claim was quick as what we had came to expect of Changi Airport, and I noticed that many of cardboard boxes had burst open during the flight! This was despite the fact that they had been securely taped or bound. In addition, a number of baggage had their handles or wheels torn off. I figured that this might be due to rough handling as baggage handlers shoved in the bags in order not to hold up the departure of the aircraft at Xiamen.
~

Go to the First Post of Fujian Section: Highlights of CA958