Macau Buses
Getting Around in Macau
Macau is very compact in size (about the size of Woodlands New Town) and thus it is very easy to get around the territory. Most of the historical place of interests are clustered in Macau peninsula and is easily explored by foot. Macau is broadly divided into four regions:- Macau Peninsula, Taipa, Coloane and Hac Sa Beach. The public bus fares are flat fares and are charged based on the coverage of the route.

Public Buses
The bus fare is prominently displayed above the fare box and the coins are dropped in. It costs MOP3.30 for services which ply within Macau Peninsula only, and MOP4.20 for services which also cover Taipa as it is an outlying island. MOP and HKD coins are used interchangeably on a 1:1 exchange rate. However, it is very hard to obtain small change and so a typical visitor often pays more than he should as he have to round up.

The triangular machine next to the fare box is the equivalent of Singapore's ez-link contactless system, known as Macau Pass. Similar to our ez-link, a single beep is heard for adult cards and double beeps for concession. However, only Macau residents can buy the Macau Pass as resident fare concessions are credited into their account.



A new bus shelter with the services stickered on the outside, seperated by dashes. The bus stop name appears inside the bus shelter and a board shows the route details of the routes. The Transmac sign on the right says 'Large Bus Turning Area. Please Do Not Park' in Chinese. There are many of these signs around Macau.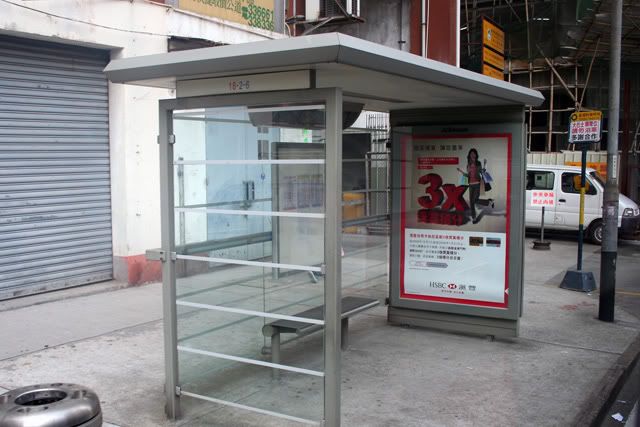 Bus Stand along the main street 新马路, or San Ma Lou as it is commonly known in Cantonese. Virtually nobody refers to it by its Portuguese name. The current location and direction is indicated by a round sticker on the route diagram.

Most Macau residents and bus drivers only know the name of the road and landmarks in Cantonese, so its better to actually point out on the map for enquiries rather than attempt to pronounce the road name in Portuguese, English or even Chinese! Macau bus routes are confusing as the route of the inbound and outbound sectors can (and often) differ by quite a bit.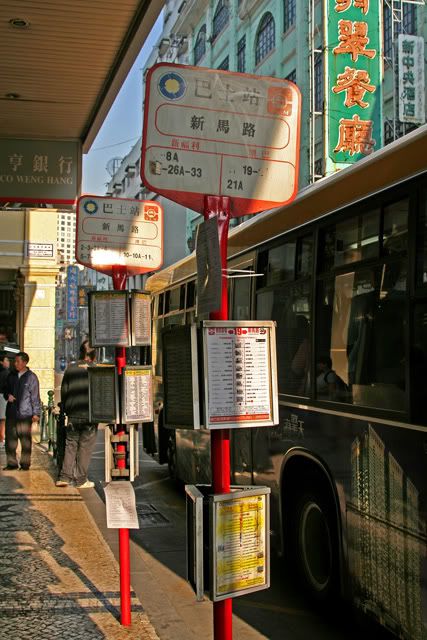 Macau-HK Ferry Terminal Bus Terminal. A typical bus terminal in Macau looks more like an extended bus stop with small containers serving as timekeeping offices. However, the public bus terminal at Barrier Gate is located underground. It may be possible to obtain change from the timekeeper on duty. Tramsmac service 32 is a very useful service as it connects Ferry Terminal with Senado Square and Macau Tower.



There are two public bus operators in Macau, Transmac(新福利) and TCM (澳巴).

Transmac
The oldest type in Transmac's fleet currently are the Mitsubishi Fuso. It is seen working route 5 approaching Barra Terminal. Service 5 is a useful service to connect Barra (A-Ma temple), Senado Square and Barrier Gate.



Most of the services which serve Macau Peninsula call at a large bus stop located opposite Grand Lisboa. MK-45-86 is a Dennis Dart SLF with MCV bodywork. It is interesting to note that these buses were assembled by Soon Chow in Singapore before they were shipped to Macau.



Batman Credit Card anyone?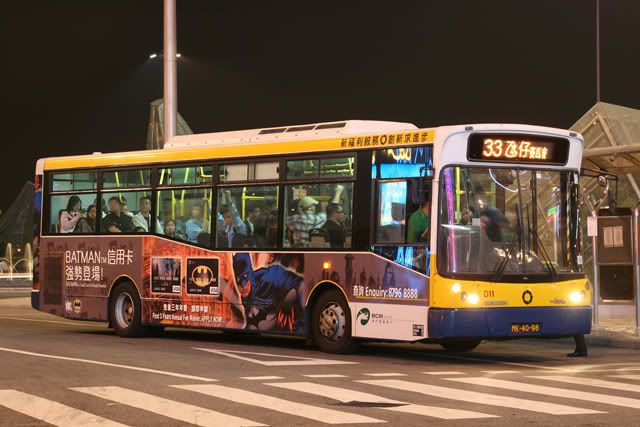 Interior of the Dennis Dart SLF. The seat covers are printed on with Transmac logo.



K82 picking up passengers along Rua Do Cunha, a major single lane street at Taipa Village



In order to ply the narrow backlanes of Macau, Mitsubishi Rosa are deployed in large quantities on routes throughout Macau. To aid passenger flow, they have 2 doors. MJ-70-19 is seen climbing up a steep lane near the Protestant Cemetery.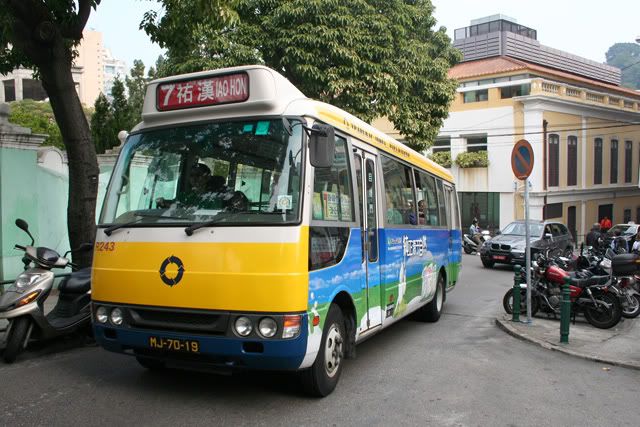 Standard 2+1 interior arrangement for the Mitsubishi Rosa. The single seat after the rear door is sideways facing.



TCM
Easily identified by the bright orange and white livery, TCM operates a large fleet of predominantly Japanese buses. MG-71-33 is photographed picking up passengers at the Grand Lisboa 'Bus Hub' with the distinction lotus shaped Grand Lisboa in the background. Services are split into each of the 4 stops here based on their final destination. The entire area is brightly lit by white flourescent lamps.



TCM uses Japanese buses complete with original Japanese bodywork, hence the characteristic ultra-wide sliding rear door on this Hino Rainbow body. Service 12 connects Macau-HK Ferry Terminal to the residential estate of Iao Hon in north Macau.



Similar to Transmac, TCM uses a number of midibuses to work routes with exceptionally tight lanes, such as this Hino Liesse. TCM Service 18 comes highly recommended as a sightseeing service as it plies the charming backlanes of Senado Square and Barra, and ends its route at Barrier Gate.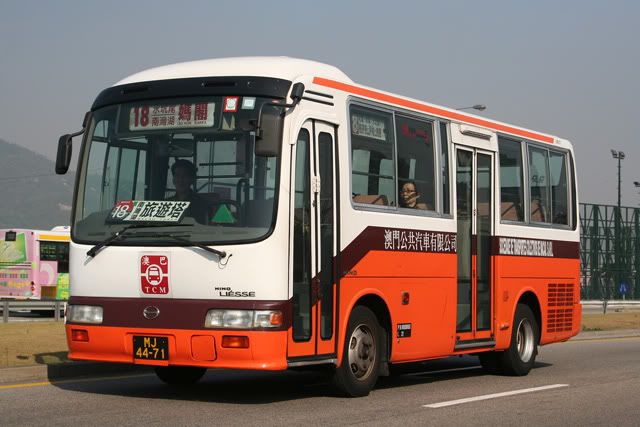 Free Hotel/Casino Shuttle Bus
Most of the major hotels with attached casinos offer free shuttle services. The usual destinations are Macau-HK Ferry Terminal, Pak-on (Taipa) Ferry Terminal, Barrier Gate and Airport. Frequency of these shuttles range between 5mins for the busier routes to 30mins for the less busy ones. These shuttle services normally have a minimum age limit of 18 (minimum age to enter casino).

For Grand Emperor it is necessary to obtain a bus ticket on the day itself from a reception counter in the casino, while those under the Stanley Ho group such as Grand Lisboa, one has to gamble at the table/slot machines to obtain a bus ticket. This bus ticket hassle is only required for trips departing from the hotel. No bus tickets needed both ways for Venetian, Sands, Wynn and MGM shuttles (coincidence that they are owned by American companies?).

Barrier Gate main shuttle bus terminal. This gives an indication of the scale of operation of these free shuttles in Macau. The larger hotel/casinos have another more convenient pick up point right outside the immigration complex and the buses used are different from those here as they are required to have 2 plates, ie Macau and Chinese. The 2 pick up points are about 5mins walk away and one has to cross a pedestrian overhead bridge.



A shuttle bus operating for Venetian leaving the Hotel West Lobby where the main shuttle bus terminal for Venetian is located. These spiffy MAN coaches used for the shuttles are very smooth and have changing mood lighting onboard too!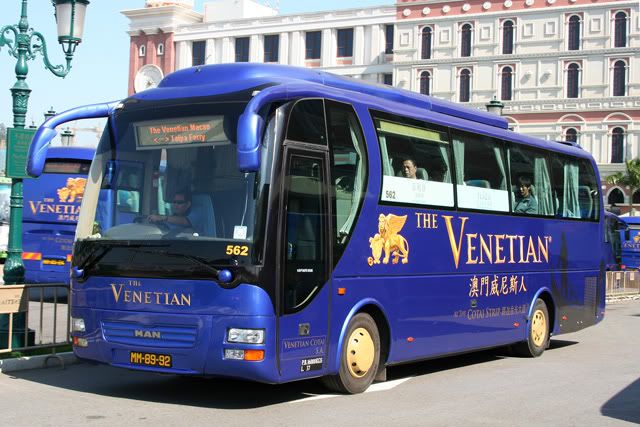 One of my most commonly used (read: taken advantage of) hotel shuttle during my short stay in Macau as the hotel is located just besides mine.



As it is not possible to include most of the photos in this page, do take a look at this link where more Macau bus photos taken during my trip could be accessed Macau Buses - Picasa Album

Next Post: Zhuhai