Highlights of 3K575
Date: Sunday, 30 Nov 08
Sector: Singapore Changi International (SIN) -> Macau International Airport (MFM) Aircraft: 9V-JSC, Airbus A320-232
Seat: 18A
Departure Gate: C1
Scheduled Departure Time: 1555 LT
Actual Departure Time: 1552 LT
Scheduled Arrival Time: 1940 LT
Actual Arrival Time: 1923 LT
Arrival Gate: Gate 3

Changi Airport had selected a Disney theme for this year's Christmas decorations and had installed centerpieces in each of the terminal to provide photo taking opportunities. It was observed that Mickey Mouse and gang had a rather universal appeal as kids from all ages (literally) queued up to have their photo taken with the affable character and his pals!

Terminal 1

Irresistibly cute Mickey and Minnie caroling together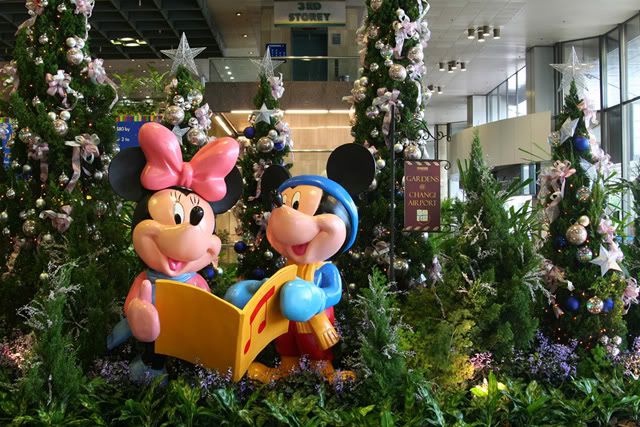 Featuring a 'Pirates of the Carribean' setting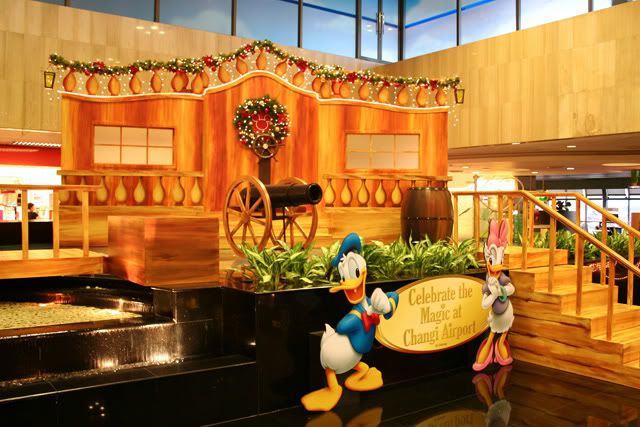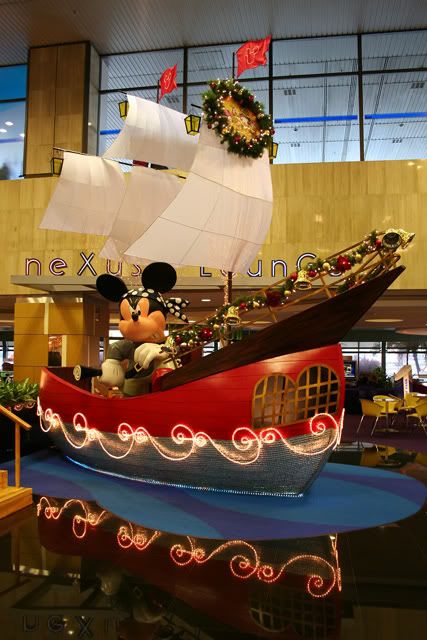 Terminal 2
A Holland setting with a rotating ferris wheel as part of the display. I personally feel that this display is the nicest of the three.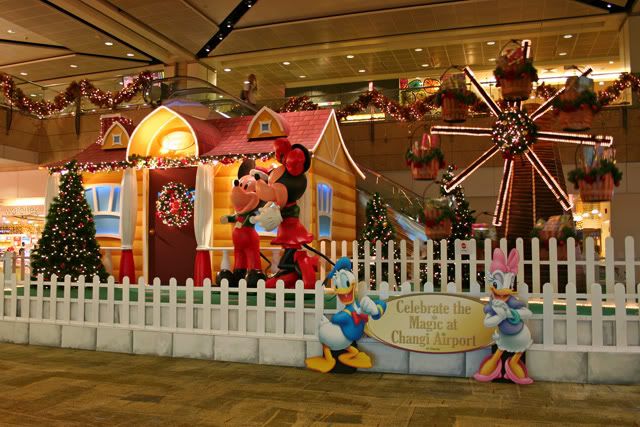 Look Mum, No Hands! Mickey still had his pair of hands when it was photographed by another visitor barely a week ago.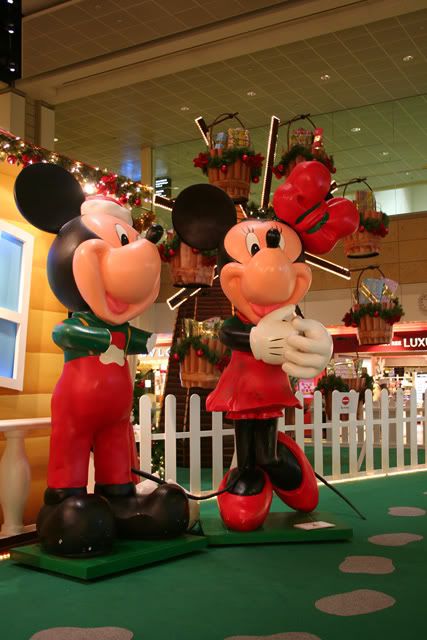 Terminal 3
European Garden setting. The swing seems very popular with the young children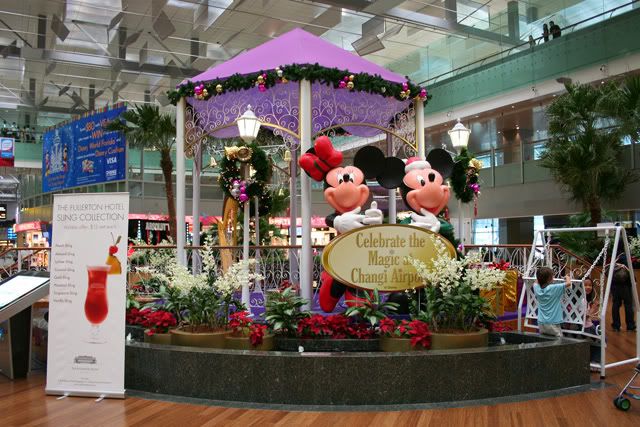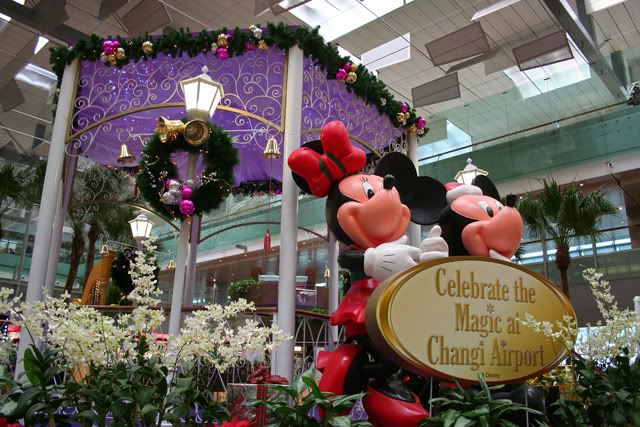 I decided to explore Terminal 3 as it was my first time visiting the restricted area since its official opening earlier this year. The southern end of the terminal was absolutely devoid of life except for the occasional security screening officer and had an almost surreal feel to it. However, the peace is excellent for passengers who wish to watch the movie played on the numerous TVs undisturbed or have a quick nap.

Empty Internet terminals at T3 South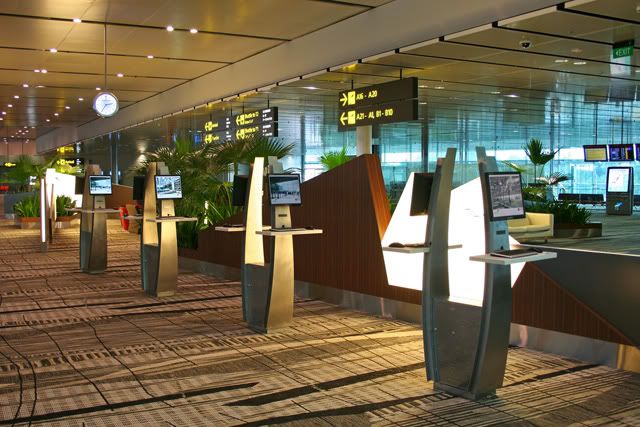 There were also these 'gadget chargers' located throughout the terminal for passengers to charge their mobile phones. However, I observed that it was mainly used by the aviation screening officers instead. And oh, I wonder how one can squeeze a PSP into one of those slots!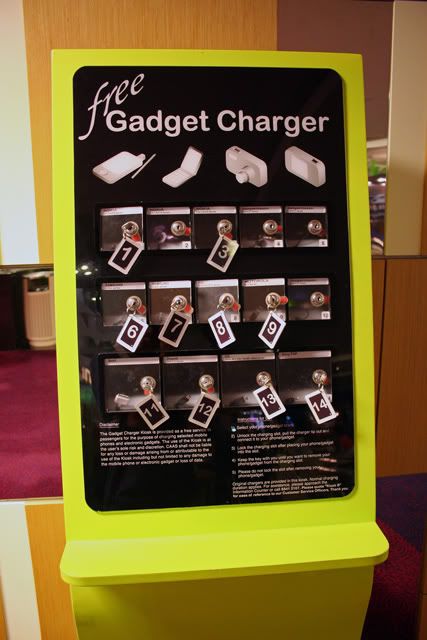 Looking for last minute Uniquely Singapore souvenirs? Try Singapore Post's Post-on-Wheels for postcards and first day covers.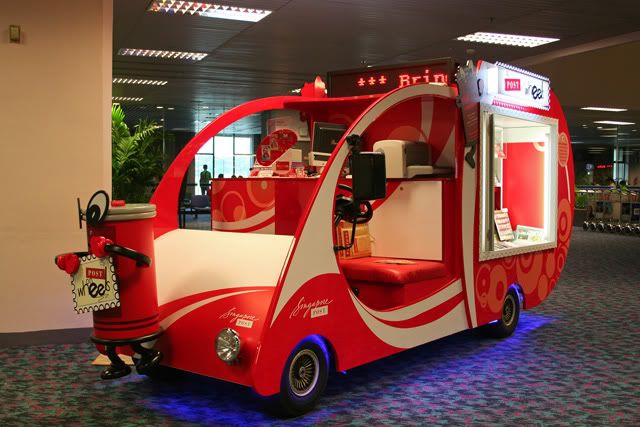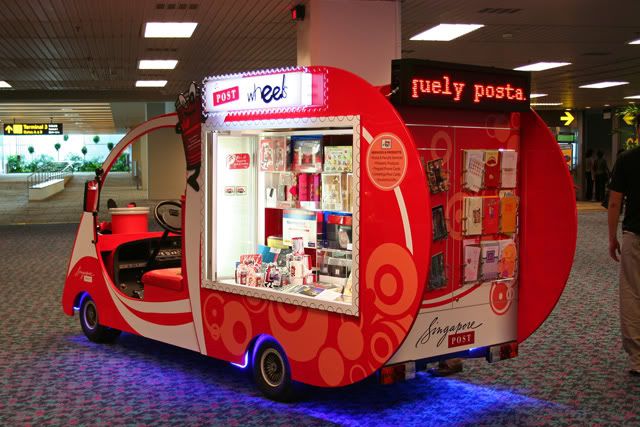 We were allocated a very good gate for our flight today, C1. The temperature displayed on the screen is actually ten degrees lower than what it should be!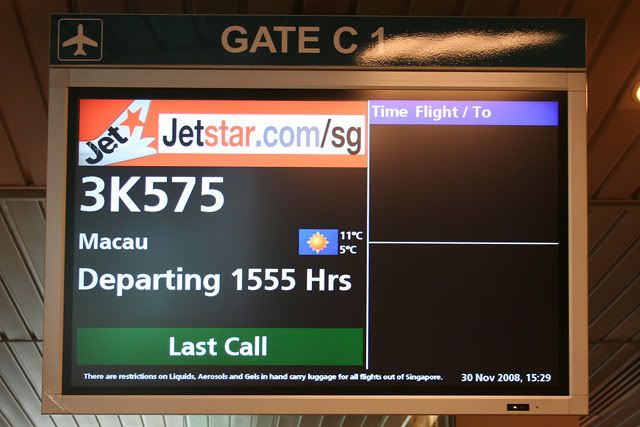 9V-JSC being prepared at the gate.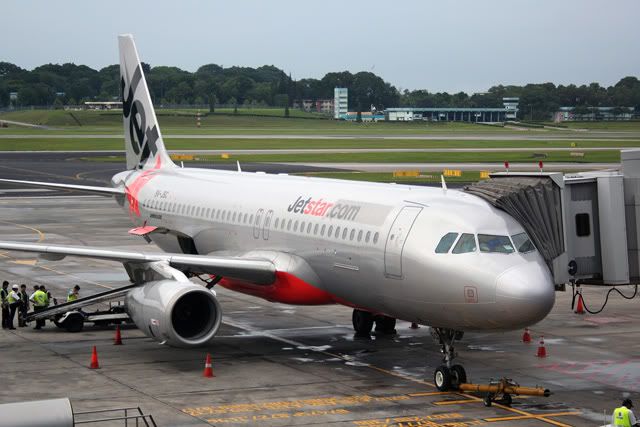 A quick shot of the aircraft while waiting to enter the cabin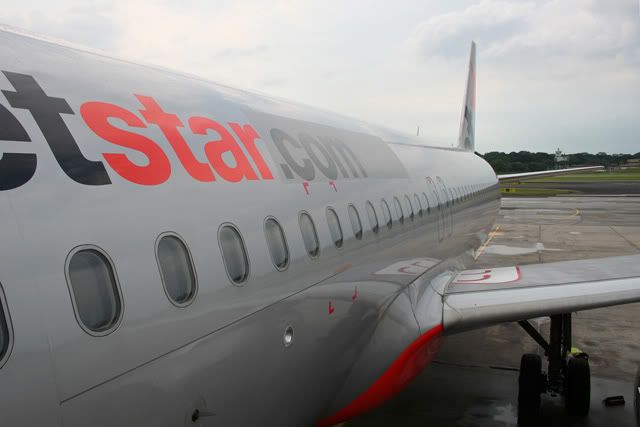 There's actually adequate seat pitch on board Jetstar's A320. Passengers who prefer additional leg room could opt for a seat in the emergency exit and bulk head rows for $25 per sector. However, Jetstar allows one to select one's preferred seat during the booking process for free.



Cabin shot en route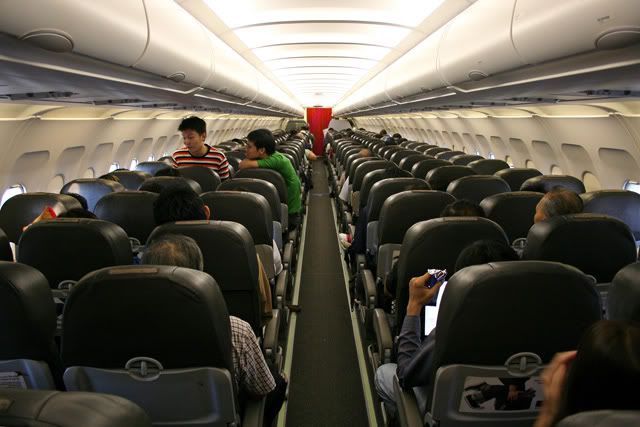 Jetaway inflight magazine. The pack of poker cards cost $3 and still has the old JetstarAsia branding on it, so it was very much a collectible item. Was also thrilled to discover that the baggage tag had been pre-printed with the destination and certainly don't mind this cost-cutting measure! Typical 'supermarket receipt' thermal printed boarding pass.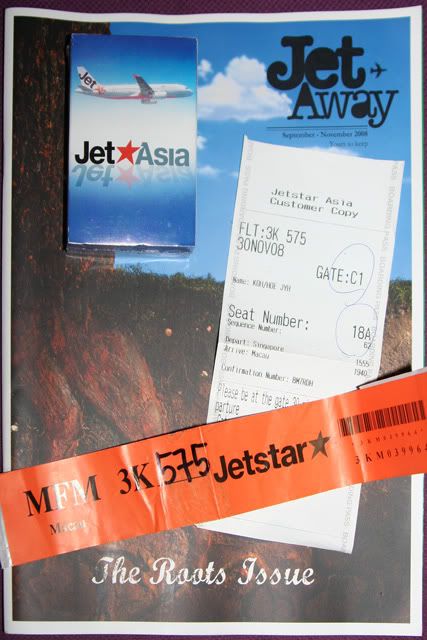 Sequence of sunset shots as nature provides its own inflight entertainment for bored passengers.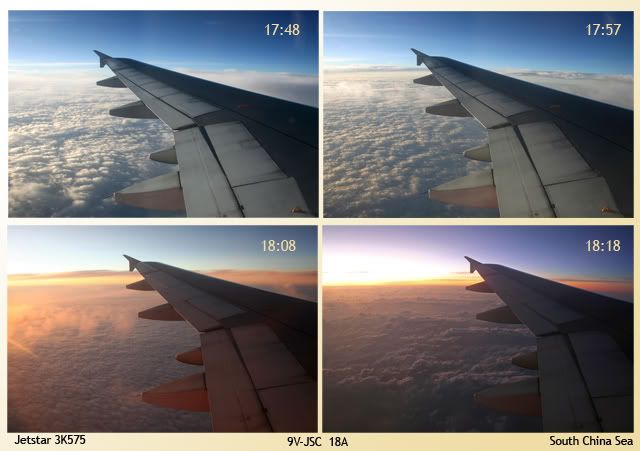 Macau International Airport Arrival Hall.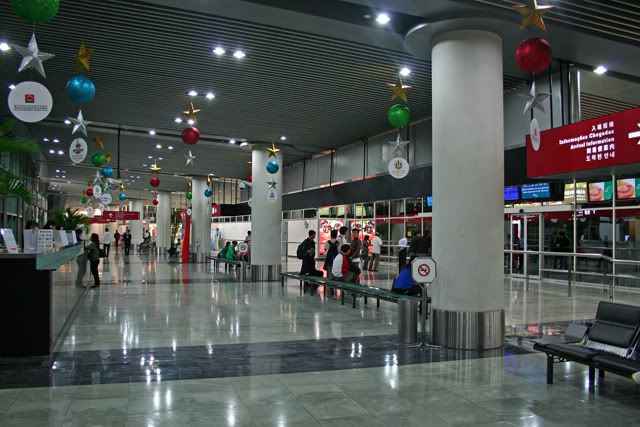 Public buses are available outside the Arrival Hall. AP1 costs MOP4.20 per passenger and there is an additional surcharge of MOP3.00 per baggage.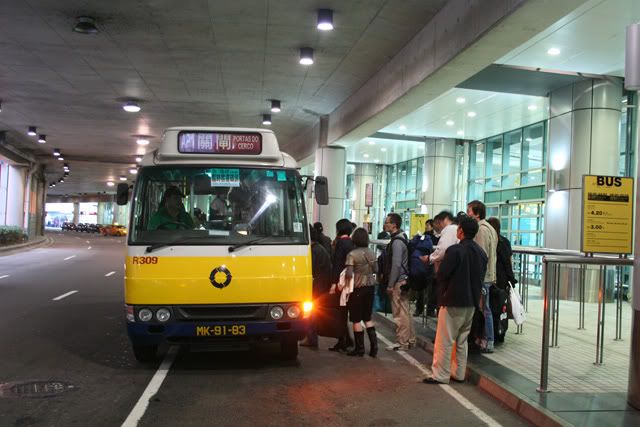 PDF version with additional details of this trip report is available on request :)

Next Post: Senado Square and Ruins of St Paul's