Komtar etc.
Komtar Tower
Komtar stands for Kompleks Tun Abdul Razak and is an integrated office and shopping development completed in 1986. There is also a bus terminal located at the ground floor of the complex which is served by almost all of the buses that passes into Georgetown. As the building gets increasingly unappealing due to age, a newer shopping mall called Pranglin Mall has been built besides it.

Postcard shot of the Penang icon. Photo taken from a perfectly situated stone bench at a junction near the tower



For RM15 one could ride in a rickety manually operated lift up to the 60th storey where a viewing deck is situated. The ticket also allows for 2 free postcards and a cup of welcome drink. The windows are relatively clean, but there is a constant vibration of some of the windows and the fact that a red lamp shines directly on some panels at night hinders photography.

Looking towards the south of the island, with Penang bridge to the left of the picture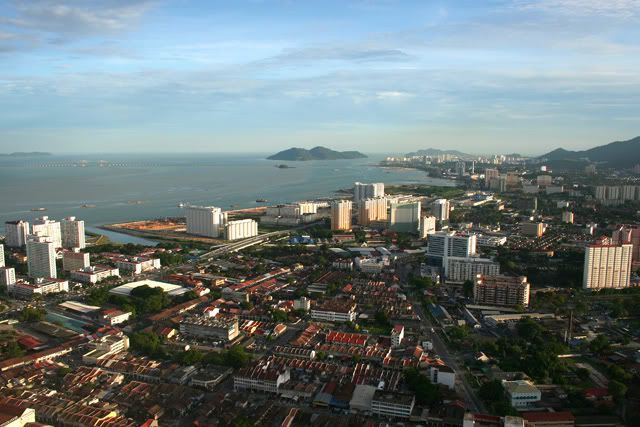 Night shot taken in the direction of Butterworth. Georgetown still amazes me with the lack of high rise buildings for such a commercially important city.



Queensbay Mall
Queensbay Mall is one of the newest and largest shopping malls in Penang. It is reportedly one kilometre long in length and is located in a new upmarket development to the southeast of Penang.




Gurney Drive
Gurney Drive hawker centre is one of the famous open air hawker centres in Penang. Though huge, the stalls sell similar dishes which include Asam Laksa, Fried Cockles, Fried Kuay Teow, Rojak, Chendol and Soya Bean desserts. The atmosphere reminds me of Newton Circus hawker centre in the past where touting and chaos is commonplace.




Next Post: Penang Ferry