Day 6
A butt-pain 3hr ride from Jeongdongjin the previous day. A hotel so understaffed receptionists double up as waitresses in the hotel's restaurant. Trains rumbling by in the middle of the night. And its the best hotel available in Danyang. Thus, one wonders how beautiful the scenery could be to warrant such a journey.
A nice highway interchange just outside the hotel.
Chungju Lake, which lies 30mins from the hotel by bus, is Korea's largest man-made lake and the water collected would provide Seoul with drinking water. Due to the presence of various hills and a substantial amount of imagination, the area has also been referred to as Korea's "Little Guilin".
The small pier where we would board a ferry for a cruise around the lake.
The characteristic "layering" of the hills and water that is present in the actual Guilin, China, though not as spectacular.
Some of the rock structures that are present around the lake.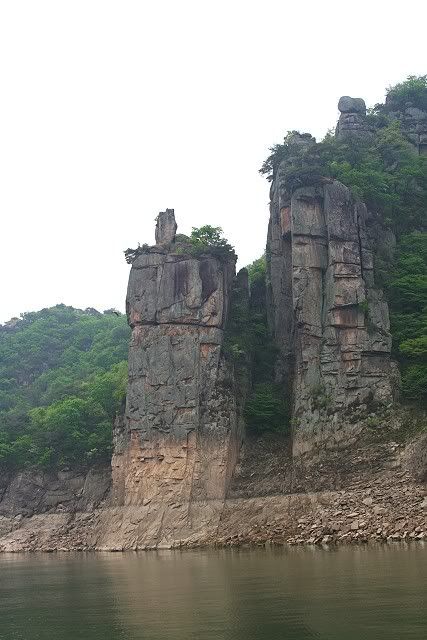 After the 1hr long cruise, I suddenly felt that our government's plan t0 turn our own reservoirs into tourist attractions might not be a far-fetched idea after all. Perhaps its the dull morning weather, but Korea Tourism Org does need to put in much more effort into beautifying the otherwise drab reservoir.
Next Post:
Animal Wonder World, Everland